Gov. Jim Justice dismissed legislative frustrations about an outside review of the Department of Health and Human Resources, equating those concerns to political toxins from the most recent election.
The Republican governor broadly addressed a question about how the recommendations to break down silos at DHHR would be implemented by blasting Senate leaders — also Republicans — over political conflicts that grew during the most recent election cycle.
"When it really boils right down to it, the implementation of stuff that is going to happen, we need to do it and do it right now," Justice said. "But be fair. Be honest. There has been age-old problems in DHHR that have been dealt with by governor after governor after governor.
"We now have a plan. We now have a report from a very reputable group. And what we need to do is implement that and implement it right this second, as fast as we possibly, possibly can. Nothing ever moves as fast as we want it to move in government. But literally, you've got the plan and you've got the guy right here that believes with all in me — and I don't want any food fights and all this junk — at the end of the day, all I want is more and more goodness."
Lawmakers, in bipartisan votes during the most recent legislative session, passed a bill dividing DHHR into two agencies. Lawmakers said smaller structures would improve accountability.
The governor disagreed and vetoed the bill. Justice instead ordered a "top-to-bottom" review of DHHR by an outside consulting firm. McChrystal Group won a bid coming in just over $1 million.
The consulting firm's recommendations, which became public late last week, rejected splitting the agency, but did conclude that changes are urgent to knock down silos and improve results. The review identified too much top-down communication and decision-making.
One of the major recommendations is to establish an executive leadership team consisting of seven leaders responsible for united leadership of agency strategy.
Besides the current cabinet secretary, that would include a deputy secretary for child welfare, deputy secretary for substance abuse disorders, deputy secretary for access and eligibility plus the state health officer, the director of the Center for Threat Preparedness and a chief operating officer.
As the review was publicly released last week, a statement from Justice directed DHHR Secretary Crouch to implement the recommendations but without specifics about how that would be done.
"They will do so in an effective and efficient way and will ensure there is no lapse in any vital support or services for the West Virginians who rely on the DHHR. I will also work closely with the Legislature on changes to laws or funding that may be necessary to implement these changes," Justice stated last week.
Lawmakers who discussed the report during interim meetings this weekend expressed frustration that the findings are broad and that the recommended organizational structure is similar to some tried in the past.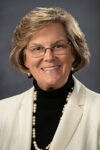 "I kept thinking I'd seen it somewhere before and it had been proposed to us in the past," House Majority Leader Amy Summers, R-Taylor, said during a Sunday afternoon meeting. "I know that structure's been used several times and it's never worked. Why do you think now it will work?"
Summers told consultants, "All this has been done before, several times."
Meghan Bourne, who presented the McChrystal Group's review, said the personnel proposals need to be considered in the context of the other recommendations. "The org chart by itself will not solve the challenges. The org chart is meant to enable strategic focus."
She said the deputy secretaries would help the cabinet secretary with the many areas of accountability.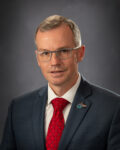 Senate Finance Chairman Eric Tarr, R-Putnam, also expressed concern over whether the organization chart would be any more effective.
"I have the same concern with regards to seeing a plan that's been proposed to us before, that we've tried before," Tarr said. "It's disappointing that that's the case because our health outcomes, I don't believe, were any better when that was tried before."
Pointing to the previous proposal to divide the agency, Tarr continued, "The reason we passed this was to put it out where it would be smaller and more manageable. This doesn't make it smaller, it grows it. And growing it, in the past, didn't help either."
Today, Justice aimed a big part of his reaction at Tarr. The governor's context was the opposite positions he and the senator took over the past couple of months about constitutional amendments that were up for votes on Election Day.
While campaigning around the state against an amendment allowing lawmakers to exempt some personal property taxes, Justice claimed Tarr and Senate President Craig Blair were motivated by personal ambition as they expressed support for the amendment.
Justice's position prevailed on Election Day, and the amendments were voted down. But the Republican majorities in the Legislature grew to historic levels. So, last week, Tarr said there is no reason for those huge majorities to consider the governor's priorities during the upcoming legislative session.
The governor's response about legislative scrutiny of the million-dollar DHHR report crossed into all of that context.
"Legislators, we don't need to get in a food fight by the results of the election influencing that in a positive or negative way," Justice said today.
In response to another question today about the DHHR report, Justice said he has confidence in McChrystal Group's analysis. "You've got to at least acknowledge that the effort was made by a great, very, very creditable group," he said. "The effort was made to come up with resolutions and solutions that could really, really help us in DHHR."
The governor continued, "This report calls for bold changes, bold changes that are needed. And absolutely before we start shooting from the hip saying 'We don't like this, we don't like that,' we ought to at least really analyze all the way through what's been said and look at what to do."
Crouch, who was in heated exchanges with lawmakers during interim meetings on Sunday, expressed confidence that the agency will benefit from the recommendations in the consultant's report.
"McChrystal did take a different approach than what I've seen in the past. It's easy to draw organizational charts. It's easy to move boxes around and to put people in boxes," he said today. "They looked at the structure of DHHR, but they also looked at the problems of West Virginia and looked at what West Virginians need with regarding to DHHR's services.
"And for the first time we're going to have deputy secretaries who are responsible to fix that. We have to do better. For the first time we'll have one individual who's not worried about the people underneath in terms of what box they're in or what they do, but 'how do we solve this problem in West Virginia and help the people of West Virginia.'"