The secretary for Health and Human Resources today clarified some of the organizational changes the agency is making in response to a million-dollar consultant's report that identified too little strategic communication.
Secretary Bill Crouch, during a briefing, described a hiring freeze by the agency as it goes through the reorganization. But Crouch clarified that the freeze does not apply to positions where West Virginia has openings at crisis levels, like child protective services workers.
"We're implementing these recommendations from the McChrystal report through the existing resources we have," Crouch said in a briefing, "and I believe we can do that without asking for additional dollars."
DHHR put out a news release today to describe how it's moving ahead.
While the agency has DHHR instituted a temporary hiring freeze, the statement indicated, positions of critical need will still be filled. The agency said requests to hire must be approved by the appropriate deputy secretary and sent to human resources for review and final approval by the secretary.
"We clearly have some responsibilities there that we cannot in any way impede," Crouch said, saying the freeze does not include child protective services or adult protective services. The freeze also would not include key positions like inspector general or state health officer, which are under active recruitment. Job fairs for state facilities will continue.
DHHR is also centralizing the reporting structures of the staff who work in finance, management information services, human resources management and purchasing.
Finance staff in each bureau and office will report to Tara Buckner, DHHR's chief financial officer; technology staff will report to Shaun Charles, DHHR's chief information officer; purchasing staff will report to Warren Keefer, director of the Office of Administration; and all human resources staff will report to Angie Ferris, DHHR's director of the Office of Human Resources Management.
Earlier this week, the agency announced two deputy secretaries, positions that were recommended by the outside review. Cammie Chapman, previously an associate general counsel for DHHR, as deputy secretary of child and adult services. Christina Mullins, most recently the agency's behavioral health commissioner, will be secretary for mental health and substance use disorders.
"DHHR has important work to do to help the residents of West Virginia," Crouch stated. "We strongly believe that these organizational changes are steps in the right direction, and we will continue to make wise decisions going forward. By getting the right people in the right places, we continue the critically important work of the Department to meet the needs of both the people and the State of West Virginia."
The review released this month by the consulting firm McChrystal Group focused on better communication and breaking down silos. One of the major recommendations is to establish an executive leadership team consisting of seven people responsible for united leadership of agency strategy.
"By getting the right people in the right places we will continue the critical work that DHHR is responsible for," Crouch said in today's briefing.
Crouch reiterated his position that those changes are meaningful and not just for appearances. And he said there's more to come. He gave an overview of how the agency is pursuing the reorganization and also got two questions from reporters pressing for conclusions.
State legislators have expressed skepticism over whether staffing changes will improve the agency's performance and over whether the consultant's recommendations were worth the million-dollar cost to the state.
"I think there's going to be criticism regardless of what I do at this point," Crouch said in response to a question by WSAZ's Sarah Sager. "DHHR is under a microscope here. And we do a lot of good things every day for a huge number of people in this state, tens of thousands in this state."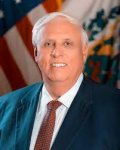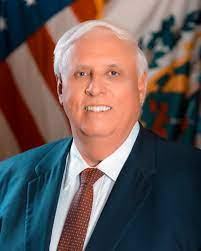 Gov. Jim Justice said working out the challenges at DHHR can't be accomplished all at once.
"There will always be something. There's always going to be a problem. This agency is a big agency. There's going to be a problem somewhere," Justice said. "But there's so much good that's going on, it's off the chart."
The governor said his goal is improvement without unintended consequences.
"We got an organization to come in and do a gigantic report," he said of the 44-page report. "How long's it been since that report has been here? Not long at all. We can't just jump up and start stabbing it in every direction in the world here without the potential liability of making a big mistake and hurting some family.
"So there's no chance that I'm going to do knee-jerk reactions. I'm the most impatient guy in the room. I want real improvement now. And absolutely I will work as hard as I possibly can to provide and get real improvement without blowing our legs off."