West Virginia's Department of Health and Human Resources has made additional personnel announcements aimed at continuing a reorganization meant to improve communication and break down silos.
Jessica Hudson has been named chief operating officer of DHHR effective Jan. 9, 2023. She will oversee the offices of Administration, Finance, Human Resources and Management Information Services. The chief operating officer will be responsible for ensuring DHHR's internal operations support programs and services.
"I am confident in Jessica's vast experience as a health care leader," said DHHR Secretary Bill Crouch in an announcement.
"By creating this new position, we will be establishing a direct line of oversight and communication with our administrative support offices to ensure successful and cross-functional outcomes. We will continue to eliminate some of the silos that have developed over the years by placing the right people in leadership positions."
Also, Nicholas Stuchell has been named interim commissioner of DHHR's Bureau for Behavioral Health, effective immediately.
The vacancy is being filled because of the appointment of former Commissioner of the Bureau for Behavioral Health, Christina Mullins, as Deputy Secretary of Mental Health and Substance Use Disorders. A job search will be conducted for a permanent replacement.
The Bureau for Behavioral Health is the federally designated state authority for mental health and substance use disorder as well as the lead agency for intellectual and developmental disabilities.
DHHR has been rolling out a series of announcements about leadership positions after the release of a million-dollar consultant's report that recommended better focus on communication and cohesive strategy.
One of the major recommendations is to establish an executive leadership team consisting of seven people responsible for united leadership of agency strategy.
Besides the current cabinet secretary, that would include a deputy secretary for child welfare, deputy secretary for substance abuse disorders, deputy secretary for access and eligibility plus the state health officer, the director of the Center for Threat Preparedness and a chief operating officer.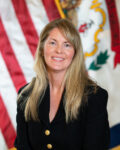 Hudson, the new chief operating officer, worked at Stonerise Healthcare since its beginnings in 2007. She served as the chief financial officer and and director of mergers and acquisition, a position she held since 2013. She previously was vice president of revenue and operations from 2007-2013.
"I look forward to using my knowledge and experience from the private health care sector as the Chief Financial Officer leading more than 3,000 team members in enterprise operations, human resources and financial affairs in my new position at DHHR," Hudson stated.
Stuchell, the interim behavioral health commissioner, currently serves as the general counsel of DHHR's Bureau for Behavioral Health and the Office of Drug Control Policy, a position he's held since 2019. Before joining DHHR, he worked in general litigation for 10 years.
"Nick's familiarity of DHHR will allow him to immediately serve in this capacity without a learning curve," Crouch said. "He will be a stable force while we search for a permanent replacement."