WHEELING ,W.Va. — U.S. Attorney Bill Ihlenfeld said recent indictments in connection with alleged covid fraud are just the beginning.
"We want to let the public know that there's good work being done behind the scenes with the team in my office and to encourage the public to call us," Ihlenfeld said.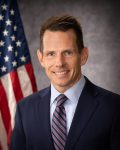 The indictments in five cases announced last week are connected to alleged wire fraud and mail fraud having to do with federal funds illegally received from the CARES Act including those who received money through the Paycheck Protection Program (PPP).
"We had individuals who lied about the number of employees they had. They lied about the amount of their payroll. They provided false tax information in order to increase the amount of funding they would be eligible for," Ihlenfeld said.
Ihlenfeld said his team is also working with WorkForce West Virginia on cases focused on those on received unemployment benefits during the pandemic who weren't entitled to them.
"The great thing about this is–we know who the people are, we've got the paperwork, we have some additional time, so we're going to take our time and charge people going forward," Ihlenfeild said, describing it as being "very methodical."
Ihlenfeld said he believes there's more fraud that happened during the pandemic that has yet to be reported.
"We want the public to call us if they're aware of a neighbor, their boss, their ex-wife or ex-husband. We've actually had calls like that of people going through a divorce who came across accounts with money in it that they didn't realize they had, within their marital assets, and they've called us," Ihlenfeld said.
Ihlenfeld encouraged anyone aware of COVID fraud to report it via email to wvfraud@fbi.gov, by telephone to 304-234-0100, or via regular mail to the U.S. Attorney, P.O. Box 591, Wheeling, WV 26003,
Those charged last week include:
Dalton Haas, age 27, Wheeling, WV, Wire Fraud and False Statements to SBA
James A. Nolte, age 51, Bridgeport, WV, Wire Fraud and Money Laundering
Shawn M. Murphy, age 47, Moundsville, WV, Wire Fraud
David Boyd, age 27, Chester, WV, Wire Fraud and False Statement to Federal Agent
Jodi Headley, age 49, Chester, WV, Mail Fraud