MORGANTOWN, W.Va. — It appears that the WVU coaching staff has addressed a clear vacancy on their 2023 roster. Former LSU tight end Kole Taylor has announced his verbal commitment to join the Mountaineers.
Let's work🔵🟡 #HailWV pic.twitter.com/Tir51bPhtI

— Kole Taylor (@KoleTaylor3) December 25, 2022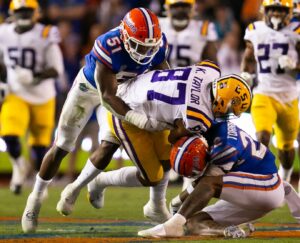 The 6-foot-7, 250-pound Taylor played three seasons with the Tigers and he has two seasons of eligibility remaining. In 32 career games at LSU, Taylor made seven starts. He has reeled in 17 passes for 159 yards and a touchdown. In the 2022 season, Taylor made 5 catches for 55 yards.
Taylor is a native of Grand Junction, Colorado and was one of the nation's top tight end recruits in the Class of 2020.
Tight end is a position of need for the Mountaineers. Brian Polendey exhausted his eligibility this fall and Mike O'Laughlin and Corbin Page transferred out of the program.
Treylan Davis returns for his third season at WVU. He played in all twelve games in 2022.
WVU has also received a pair of verbal commitments from Kent State transfers. Cornerback Monte Miller and wide receiver Ja'Shaun Poke committed to transfer to WVU last week.