BECKLEY, W.Va. — Raleigh County Commissioner Dave Tolliver said he feels a lot better about the situation with water distribution in his county after Monday's briefing.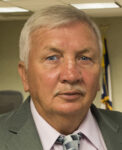 "It looks like we may be starting to turn the corner on this," Tolliver said during an appearance on MetroNews "Talkline." "Hopefully in the next couple of days all of the lines will be pressured and hopefully just about everyone will have water."
He said outages were down to about a thousand customers as of Monday morning. That number was 5,000 or more early last week.
Residents in Glen Daniel and Fairdale had water Monday while worked continued on down Route 3 toward Whitesville. Raleigh County School Superintendent David Price has postponed the restart of school until Thursday in the county.
The problems in and around Beckley began with the sub-zero temperatures from Christmas weekend. There were numerous line breaks and several large breaks went undetected because buildings and homes were unoccupied because of the holiday weekend. The Beckley Water Company supplies water for the Public Service Districts of the surrounding communities but storage tanks were drained because of the leaks.
What is the latest on the water situation in Raleigh County? Is the county making progress towards making things normal? Dave Tolliver, Raleigh County Commissioner, provides the latest to @HoppyKercheval. WATCH: https://t.co/yCFQ3nEhk6 pic.twitter.com/iSw2HnGxK2

— MetroNews (@WVMetroNews) January 2, 2023
Tolliver said Beckley Water has now repaired all of the major breaks. He said work is now concentrating on finding leaks in vacant buildings.
"We have crews going in now to all the vacant properties that may have leaks. West Virginia American Water has sent crews down to help find some of these leaks," Tolliver said.
There remain water distribution points at the Trap Hill and Sophia fire departments. Tolliver said there's a mobile shower unit set up at Lester.