STAR CITY, W.Va. — After weeks of speculation, the source of the Star City sinkhole has been determined.
West Virginia Department of Highways Deputy State Highway Engineer of Division Operations Joe Pack said crews used a dye test to isolate, then locate, the problem.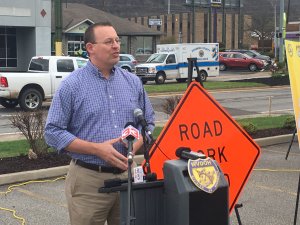 "We feel as though somewhere in that area underground the pipe has separated which has allowed the water to leave the pipe and washed-out fines under the fill material, causing the sinkhole," Pack said.
Initially, officials thought the problem could have been an 8-foot-diameter drainage pipe from the Popenoe Run area. Workers walked that section of pipe and determined it was sound, but they noticed the smaller pipe that led to the dye test and verification of the problem.
"It is a drainpipe that is conveying some surface flow, which is close to Canfield Street," Pack said. "It's on us; we're handling 100 percent of the cost."
Pack said they have equipment mobilized at the former Texas Roadhouse location on Monongahela Boulevard just down the hill from the WVU Coliseum. Monday. Work is scheduled to begin Monday to uncover and replace the suspected section of storm drain.
"There are some pretty high-profile utilities in this area," Pack said. "We want to be sure we move with purpose, but also with caution, so we are not being reckless."
Pack believes the work will take less than a week to complete but the weather or conditions on the ground could extend that schedule.
"It will be a plastic pipe, which will never rust or separate," Pack said. "If installed correctly and everything functions perfectly as we intend it to, we'll relieve the problem, the hole will be backfilled, and everything will be back to normal."