Story by David Beard, The Dominion Post
CHARLESTON, W.Va. — The retooled House of Delegates opened the 2023 session at noon Wednesday. This is the first House in state history with 100 single-member districts.
Voters in November swelled the Republican supermajority to 88-12. And after the usual ceremony, the supermajority swatted down four proposed Democratic amendments to House rules when members took up a resolution to update the rules.
Reading House rules – the guidelines for conducting House business – can be mind-numbing but these four dealt with public transparency and how bills are debated.
Delegate Rick Griffith, D-Wayne, offered one to keep bill sponsors' names off of bills (House bills can have up to 11 sponsors).
He said this would encourage members to read and understand the bills, instead of just knee-jerk rejecting them based on the sponsors' party affiliation. "We need to do our homework."
But Deputy Speaker Matt Rorbach, R-Cabell, countered, "This is not an anonymous process." Constituents want to know what their representatives are sponsoring.
And Majority Leader Eric Householder, R-Berkeley, added, "It's not about credit, it's about transparency."
The amendment gained one GOP supporter, Mickey Petito, R-Harrison, and failed 13-86.
Amendments to not permit any bills to appear on a committee agenda and to require video streaming for committee meetings (House committee meetings are streamed audio-only and are not archived as Senate meetings are) failed with no GOP support.
The final amendment was an effort by Delegate Larry Rowe, D-Kanawha, to undo one of the proposed updates in the rules.
Up until this session, members could be recognized to speak twice during floor debate on bills. The proposed update would limit it to just once, with certain exceptions.
Rowe said, "This is a radical, radical change in debate policy." It will strip away a member's ability to rebut or correct another member's comments. And the limitation will trickle down to committee meetings where members often pose questions and speak to bills two or three or four times.
This time, five Republicans joined the Democrats: Petito and Delegates Tom Fast of Fayette, Geoff Foster of Putnam, Todd Kirby of Raleigh, and Adam Vance of Wyoming. So it failed 17-79.
As always, members approved a resolution to suspend the House rule limiting floor access so legislators could bring their guests to the governor's State of the State Address set for 7 p.m.
Recalling the infamous Babydog incident from last session – when Gov. Jim Justice picked her up and flashed her hindquarters to mock people naysaying the state's progress – Delegate Sean Fluharty, D-Ohio, asked Speaker Roger Hanshaw if the resolution permitted on the floor.
Justice's stunt irked Hanshaw last session and on Wednesday he bluntly answered, "It does not."
And some ceremony
The floor session opened with Delegate Bill Anderson, R-Wood, as the longest-serving delegate, taking the speaker's podium pending the formality of electing Hanshaw to the post.
Before the election, Supreme Court Chief Justice Beth Walker administered the oath of office the members – 31 of them newly elected in November.
While the vote is a formality – the majority party pre-selects the speaker – it's required. The minority party always nominates its leader, and Minority Leader Doug Skaff, D-Kanawha was put forward.
After the vote, Skaff spoke briefly about his friendship with Hanshaw and their joint goal to move the state forward.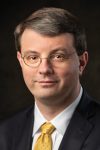 "It's an honor and privilege to be here and stand next to and work with Speaker Hanshaw," he said. They traveled the state together to promote its development and Skaff praised Hanshaw for his approach to legislation.
Skaff said Hanshaw told him, "I don't care if its a Democratic idea or a Republican idea, I just want good ideas." It's important to put party politics aside to move the state forward.
Hanshaw talked about the privilege of being elected to the House. They're 100 people taking actions to help 1.8 million West Virginians. So far, their recent efforts have helped bring in $6 billion in investments in the last five years, helping to create high-paying "economy transforming jobs."
Their work, he said is making it easy for people seeking to move from big cities to choose West Virginia.
And there's more to do, he said, in the areas of substance abuse, more investment for good jobs, roads and bridges, and broadband. "We simply now need to keep our foot on the accelerator."
Tweet David Beard @dbeardtdp Email dbeard@dominionpost.com