FAIRMONT, W.Va. — Elected leaders in Fairmont started the new year by making a ground-breaking selection for mayor.
District 2 councilor Anne Bolyard was chosen by city council members this week. She's the first woman to serve as mayor of Fairmont.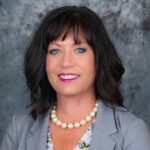 "I have been seated as a city council member since 2021 and last night I had the privilege and honor of being the first woman selected as the first mayor of the city of Fairmont in 124 years," Bolyard said not long after the vote.
Prior to her election to city council, Bolyard had served on the city's Board of Zoning Appeals and the Historic Preservation Committee. Through that experience and the pandemic, she decided to run in 2020 and picked up the seat with more than 40% of the vote.
"I was unanimously approved by my colleagues on the city council so that's a great deal of trust that I will work very hard to earn every day," Bolyard promised.
Bolyard and council will now go to work on the budget, property redevelopment, blight removal, and improving public safety. But Bolyard said she has always listened carefully to community input before responding and is willing to consider new ideas.
"As citizens, we reach out to all city council members, including myself, and that also takes top priority in determining what is best for the city," Bolyard said. "It is what the people of Fairmont express to us."
Public meetings have been underway on the redevelopment of the Beltline neighborhood, roughly from the Monongahela River to the West Fork River by way of Fairmont Avenue and Third Street. Work is also expected to begin soon on the Norwood Park renovation into an all-ages, all-inclusive amenity for the community.
"This is just where things are getting exciting, where a lot of large projects such as the Beltline are coming to action," Bolyard said. "We've planned, we've discussed, and now we're moving toward action."
Affordable housing and blight removal will remain in step moving forward. More areas for affordable housing will continue to be created by an aggressive blight removal program and as areas of the Beltline development are completed.
"Those properties then will be available for getting into possible affordable housing and returning to the tax rolls and safety, if people are struggling with homelessness or other issues, they may go into these properties," Bolyard said.
District 1 councilor Josh Rice was elected deputy mayor. Fairmont also has new council members including Rebecca Moran, Chuck Warner, Bruce McDaniel and Kandi Nuzum.