Gov. Jim Justice plans to keep on trucking with town hall events to promote an income tax cut proposal.
After four events last week, Justice now plans to pitch the proposal at noon Monday in Bridgeport and noon Tuesday in Martinsburg. More stops could be announced as the week goes on.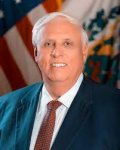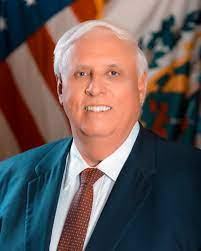 "What do you think of a move on the chess board where you put a billion dollars in the hands of all West Virginians? What do you think the multiplier effect of those dollars will be?" Justice asked a crowd in Wheeling last week. "And we'll spend it. We'll spend it here. It's unbelievable what a chance."
Justice, a Republican, has proposed personal income tax cuts of 50 percent over three years. The House of Delegates overwhelmingly passed the bill representing the tax cut this week. Senators have been more skeptical.
The reduction is structured as 30 percent the first year, then 10 percent each of the following two years. The same percentage reductions would be applied to all the current tax brackets.
A fiscal note assessing the bill concludes it would decrease General Revenue Fund collections by about $161.8 million in fiscal 2023, $1,084.5 million in fiscal 2024, $1,229.6 million in fiscal 2025, and $1,492.6 million in fiscal 2026.
Right now, West Virginia is running a budget surplus of hundreds of millions of dollars. But that's based on several factors, including high energy prices that have produced high-performing severance tax returns and artificially-low state revenue projections that have enforced relatively "flat" budgets for several years in a row.
And the state faces mounting expenses including proposed pay raises for public employees, mounting pressure at the Public Employees Insurance Agency and more. Lawmakers have been advancing a bill for more support in early childhood classes, eventually estimated to cost an additional $100 million.
In Wheeling, a member of the audience asked the governor about whether the state can handle it all. "Can we do all these other things we need to do and still do the tax cut?"
Justice leaned on his track record in office.
"I don't want you to get scared of the darkness falls," Justice responded. "Do you honestly think that Jim Justice on my watch is going to put West Virginia in any kind of peril that going forward, after my watch or any time, that we're not going to be able to continue to do more and more and more goodness in every way, for every sector?
"There's no way. There's no way I'm going to do that."
Senators have expressed skepticism about whether the major tax cut truly balances with the state's proposed spending.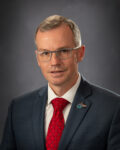 Senate Finance Chairman Eric Tarr, R-Putnam, said that scrutiny will continue.
"It's a very risky plan. We've said that before," Tarr said last week on "580 Live" on WCHS Radio. "There's just a lot of considerations that are left out that puts the State of West Virginia at risk, particularly by 2027, so future legislators and the future governor would have to come back in and then either do drastic cuts to services or bring up taxes somewhere to make up for this."
Asked about the governor's assurances, Tarr said those promises only go so far.
"I've learned not to take this governor's words at their face value. I just don't give them a lot of merit any more from our dealings with him. Not just me, our caucus in the Senate does not trust him at his word," Tarr said. "Whatever he says his intent is, maybe it's honorable, maybe it's not."
Tarr, like several of his colleagues, said the Senate is working on its own plan.
Of Justice's plan, he said, "it's incredibly risky. It's risky for the families of West Virginia.
"What I can assure you is the Senate is going to put out a plan that's fiscally-sound, it'll be good for the families of West Virginia and we won't have to worry about risking your income going down the road or risking the services of government down the road — fixing your roads, CPS, State Police."