MORGANTOWN, W.Va. — State lawmakers are working to add another magistrate to Monongalia County during this legislative session.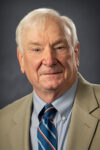 Delegate Joe Statler, R-Monongalia, is the lead sponsor on HB 3174, which was introduced last week and sent to the House Judiciary Committee.
"It asks for a fifth magistrate to be placed immediately in Monongalia County, and immediately means it will take 90 days," Statler said.
From 1999 to 2000, Monongalia County had five magistrates, but in 2000, one of those was moved to Mercer County. Monongalia County Magistrate Ron Bane reported earlier this year that in 2020, four magistrates handled 6,300 cases, and the number increased to 6,500 in 2021.
During the 2022 Legislative Session, lawmakers passed House Bill 2910, calling for a Supreme Court of Appeals caseload study that would adjust the number of magistrates in each county.
"In 2024, when the new formula comes out, that will automatically put two additional magistrates in Monongalia County, but this would be a year ahead to put them in and help out," Statler said.
Delegates Geno Chiarelli (R-Monongalia, 078), Debbie Warner (R-Monongalia, 082), Danielle Walker (D-Monongalia, 081), and Evan Hansen (D-Monongalia, 079), are co-sponsors.