MORGANTOWN, W.Va. — There's an effort underway at West Virginia University that promotes student agriculture products in local and regional markets.
The WVU Davis College Store has been doing so for the past year.
Business Manager Kelly Irvine said it's part of the Davis College of Agriculture, and unlike a typical retailer, they have the full resources of the university to help students learn markets and work for success.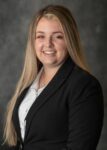 "We are based on education, so we are here to help these students navigate the market when launching their products into it," Irvine said.
The store, located on the Evansdale Campus in Morgantown, opened last April. Irvine said beginning this spring the store will offer hanging baskets, tropical foliage house plants, plant starts and herbs.
"In the spring, that ranges from vegetable plants to your regular annual perennials to different shrub-type options," Irvine said. "We also have seasonal mums and poinsettias, all grown by our students here on campus."
The store also helps rural businesses like Appalachian Botanicals in Boone County, which grows a variety of products on what was once a coal mine. Also offered is ground beef at $6 per pound, produced at the WVU Davis College Animal Sciences Farm.
"They use reclaimed coal mine lands to grow lavender and other products and actually make those into products we sell in the store, and it creates more jobs in the state," Irvine said.
For Valentine's Day, preorder flowers are available, and the proceeds will benefit the WVU Horticulture Club. The orders must be placed online by Feb. 7 and include local card options made by the Lemon Milk Paper Company, owned by Emily Severs.
"We have roses as well as cut flowers that are just regular mixed flowers, tulips, and we have a bunch of different card options," Irvine said. "The cards are actually designed by a WVU student."
Irvine has been impressed with the reception from the community to this point. Interest in the store will likely increase as more students bring more products and ideas to the program.
"Our students are pretty excited, so we're hoping to keep growing, keep getting more students involved, and hope the community keeps coming back," Irvine said.