MORGANTOWN, W.Va. — West Virginia conducts its first practice of spring football Tuesday to start Neal Brown's fifth season as head coach.
The Mountaineers are sure to have a new starting quarterback in what will mark the fourth time in the last five seasons WVU has utilized a different signal-caller for its opener than the one it had to begin the previous campaign.
There is also a new offensive coordinator. Running backs coach Chad Scott filled that vacancy, which was created when Graham Harrell left for the same title at Purdue. Wide receivers coach Bilal Marshall and tight ends coach Blaine Stewart are also new additions to the staff, providing a different voice and ideas to a unit Brown will remain heavily involved with, and perhaps more so than in the past. 
"We'll be different. I'd be a fool to sit up here and talk about that," Brown said Monday in his pre-spring media session. "We return our offensive line and have a really good running back room. You have to use the pieces you have. We think we have some really good pieces. 
"Sometimes people focus on maybe what you don't have. We have one of the highest returning rates on the offensive line as far as games played and starts made, and that's a group that's played really well. We also have some young guys that are going to be a factor there. At running back, we have really good depth. Very few running back rooms in the country have four guys that have been productive."
'This is our first opportunity to get it fixed'… Neal Brown on the start of WVU spring practice on Tuesday: pic.twitter.com/HcK6xS59jK

— MetroNews (@WVMetroNews) March 20, 2023
Of the 2,058 rushing yards West Virginia accumulated in 2022, all but 13 came from returning players, including 1,793 among the four tailbacks Brown referenced — Tony Mathis Jr., CJ Donaldson, Justin Johnson Jr. and Jaylen Anderson.
Donaldson will practice in a limited role throughout the spring as a result of a season-ending lower leg injury that required surgery last fall.
For as important as the next month is in getting Scott acclimated to his new role and trying to ensure a smooth transition with the staff changes, there are plenty of offensive unknowns as well. For all the experience and production the Mountaineers bring back in five starting offensive linemen and four proven tailbacks, the same can't be said for the team's quarterbacks, wide receivers or tight ends.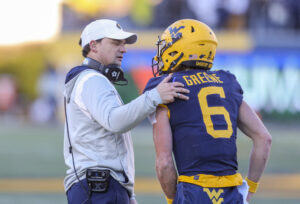 Garrett Greene and Nicco Marchiol are the returning quarterbacks, but the duo has only two career starts between them — both from Greene. In one of those starts, Greene was unable to finish the 2022 regular-season finale at Oklahoma State due to injury, leaving Marchiol to play extensively in the final game of his true freshman season.
That both quarterbacks, and particularly Greene, are dual threats, should allow for more creativity from the offensive staff.
"We have running quarterbacks for the first time. Both guys vying for the starting quarterback job are capable of pulling the ball on read plays, but also calling quarterback runs, which changes the game," Brown said. "It makes it easier from a play-calling perspective and puts pressure on some first and third downs, where we have to get better." 
As for primary targets in the passing game, of the 2,730 receiving yards the Mountaineers totaled last season, those responsible for all but 461 are no longer around. That includes the top four receivers — Bryce Ford-Wheaton, Sam James, Kaden Prather and Reese Smith.
Brown says the spring is an opportunity for less-proven players to make a case for expanded roles as they hopefully develop a better understanding of their responsibilities.
"The point in the spring is to get repetition in your base schemes," Brown said. "You're not necessarily game-planning who you're going to play in the fall. It's about getting your base repetitions, but in scrimmage situations and live settings, we have to find out what receivers we can count on. Quarterbacks, wide receivers and pass-catching tight ends, can they execute in pressure situations? We have to set them up to do that in the spring and repeat that through fall camp."
Though the next month will factor heavily into the quarterback competition, Brown says he has no plan to announce a starter in the near future.
"That's what I've shared with both of them. We're playing the long game on this," Brown said. "We'll split the reps with Garrett and Nicco through the entire spring. There are going to be some ups and downs with that. If it's really clear, then we'll make a choice, but I don't foresee that happening."
Brown, however, made it clear that he is comfortable knowing one of the two will be the Mountaineers' top quarterback in 2023 after last season's primary starter, JT Daniels, transferred to Rice.
"The hard thing is one is right-handed [Greene] and one is left-handed [Marchiol]. It's hard on me sometimes," Brown said. "From a skill standpoint, they're similar. We would practice things for Garrett that we didn't necessarily do for Jarret [Doege] or JT. That's not the case anymore. They can practice the same style, which is helpful. I'm just going to let it play out. Both of them are going to have some ups and downs. It speaks to how I feel about them the fact that we didn't go out and get a transfer quarterback, because we could have."
— — — — —
In addition to Donaldson being limited in spring practice, Brown offered several other notable injury updates.
Center Zach Frazier, as experienced and successful a player on the WVU roster, will be limited in the spring, and according to Brown, the Fairmont native will be kept out of some 11-on-11 work, though it's no cause for concern.
"He had a little procedure. He's just recovering. If we'd play, he'd be fine to go," Brown said. "More of a risk/reward for him."
Defensive linemen Asani Redwood and Zeiqui Lawton will be out for spring practice.
Lawton, a former standout at South Charleston High School, continues to recover from an injury that required surgery and sidelined him for the second half of last season. 
Brown said he would have an update on Redwood later in the spring after he suffered an injury in the winter.
The Mountaineers wrap up spring football with the annual Gold/Blue Game on Saturday, April 22.
(Neal Brown press conference)