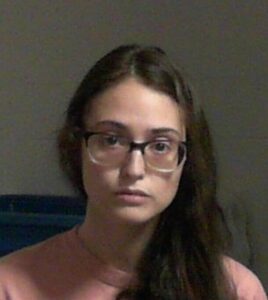 WINFIELD, W.Va. — A Winfield woman is jailed after a domestic fight left her mother with serious injuries.
Putnam County Sheriff Bobby Eggleton said Hannah Simms, 24, of Winfield was charged with malicious wounding and domestic assault after a confrontation with her mother at a trailer in the Winfield Mobile Home Park Tuesday evening.
"The daughter apparently stabbed the victim twice, once in the hand and once in the chest area. The victim fled the area taking her grandson with her," said Eggleton.
The grandson, age 2, is the son of Simms, but the victim has legal custody of the child.
Initially it was reported the incident involved a confrontation between Simms and her boyfriend which had gotten out of hand and the victim had stepped in to break up the fight. Eggleton said upon further investigation that turned out not to be the case.
"We first thought the domestic was between the daughter and her boyfriend and the boyfriend had fled the area. But after questioning the suspect and the victim, we've come to conclude this fight was over the two year old," said the Sheriff.
The grandmother, who Eggleton did not identify, was taken to the hospital for treatment of her wounds. The wounds were not life threatening and it's unclear if she spent the night in the hospital or was released. Simms is lodged in the Western Regional Jail.