MORGANTOWN, W.Va. — At about the halfway point of spring football, Jimmy Bell Jr. gave it a go on the gridiron and joined West Virginia's program for what Mountaineers' head coach Neal Brown described as a "trial run."
Less than a month earlier, Bell finished off a basketball season that he started all 34 games for the Mountaineers. Bell stuck with football the remainder of spring, which culminated last Saturday with the annual Gold-Blue Game, but it remained unclear which of the two sports he would play moving forward or if he would look into trying both.
Now Bell is in the mix for a new home after one year at West Virginia.
On Friday, Bell entered the NCAA Transfer Portal, where he will seek a new school.
It remains to be seen whether Bell will pursue basketball or football at his new destination, though he has far more experience on the hardwood of late.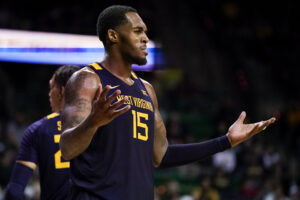 In his first and only season at WVU, Bell averaged 4.8 points and 5.2 rebounds. 
Bell recorded double-doubles in home wins over TCU and Buffalo, though his production fell off over the final month of the season. After a 15-point, seven-rebound showing in a victory over Auburn, Bell did not score more than six points in any of the 13 remaining contests. He made only 5-of-17 field-goal attempts during that time and finished scoreless in five of the last six games. 
A 6-foot-10, 285-pound senior, Bell has one year of eligibility remaining. He had yet to announce whether or not he planned to return, while two players in the same position — point guard Joe Toussaint and forward Tre Mitchell — have already made it known they're coming back.
The WVU basketball team added a center by way of the portal this offseason in Syracuse transfer Jesse Edwards, while frontcourt players Mo Wague and James Okonkwo return.
A native of Saginaw, Mich., Bell played both basketball and football at Arthur Hill High School before moving on to Bella Vista, a prep school in Scottsdale, Ariz. With no football program, Bell became a basketball-only player.
He wound up at St. Louis and played two seasons for the Billikens before attending Moberly Area Community College, where he was for one season before coming to Morgantown.
Bell worked at right tackle during spring football, and when it finished, Brown said, "He and I are going to spend some time the early part of this week, I'll talk to coach Huggins and we'll come to a pretty quick resolution on where it all stands."
— — —
Brown made it known West Virginia would look to add a few players of specific positions from the portal at the conclusion of spring football, and he's followed through on that in the days since it ended.
On Friday, the Mountaineers received a commitment from edge rusher Tyrin Bradley, an Abilene Christian transfer.
110% Committed Let's do it @WVUfootball pic.twitter.com/bS0yXizN0r

— tbrad (@tyrinbradley1) April 28, 2023
A native of Lubbock, Texas, Bradley becomes the Mountaineers' second addition this week after they also got a commitment from wideout Jaylen Ellis, a Baylor transfer.
Bradley comes to WVU with two seasons of eligibility left after playing two seasons for the Wildcats.
As a true freshman, Bradley finished with nine tackles and a half sack over seven games. He bulked up in the offseason and it paid off in 2022, when Bradley had 48 tackles, 10.5 of which went for a loss, and four sacks.
Bradley spent the 2022 season playing for first-year Abilene Christian head coach Keith Patterson, a former defensive coordinator at West Virginia.
After finishing with 10 tackles and a pair of TFLs in a victory over Prairie View A&M, Bradley was named Western Athletic Conference Defensive Player of the Week.
Bradley joins a lengthy list of recent defensive additions to WVU from FCS schools. The Mountaineers previously added cornerback Charles Woods, cornerback Wesley McCormick, safety Marcis Floyd and spear Jasir Cox in Brown's tenure, while also welcoming defensive lineman Davoan Hawkins from Tennessee State in January.
West Virginia has lost a pair of players to the portal this week in defensive backs Jaylen Shelton and Caleb Coleman.
Players can enter the portal through April 30.