CHARLESTON, W.Va. — Former U.S. Attorney and current state Senator Mike Stuart says he's ready to run for state Attorney General.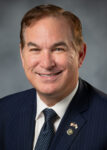 Stuart, R-Kanawha, made his announcement in front of supporters Tuesday evening at the Kanawha County Voter's Registration Office.
"So with your support, with tremendous humility, a deep sense of purpose and obligation, I today announce that I'm a candidate for attorney general for the state of West Virginia," Stuart said.
Stuart, who was just elected to the Senate in 2022, will face at least one other Republican for the nomination. Fellow state Senator Ryan Weld, R-Brooke, announced his candidacy a few weeks ago. He rolled out his campaign website Tuesday.
The Attorney General's job is opening up with three-term Attorney General Patrick Morrisey announcing his intentions to run for governor in 2024.
Stuart credited Morrisey for winning several big cases during the past decade-plus.
"We have more people employed in West Virginia as a result of his work as the attorney general. Those are big shoes to fill and I'm going to do the best I can to try and fill them," Stuart said.
Stuart said Tuesday that he's a conservative who is "built to be a strong attorney general."
"We live in an era of fake news, cancelled truth, ESG, woke corporate boards, cultural warriors, climate crazies, gender confusion, election uncertainty, drug normalizers, indoctrinators and history haters to a certain degree," Stuart said. "You know who is responsible to fight all of those things in West Virginia? The attorney general."
Stuart, who was appointed as U.S. Attorney for Southern West Virginia by former President Donald Trump, said his priorities in the AG's would be the same as they were as federal prosecutor.
"The opiate and drug scourge, protecting law enforcement and our veterans, federal and regulatory overreach, corruption, Medicaid and consumer fraud, elder abuse, domestic violence, and protecting our children," Stuart said. "I carry in my pocket each day a wallet filled with the beautiful faces of victims of the opiate crisis."
Stuart, who is originally from Barbour County. He grew up in Morgantown, was chairman of the West Virginia Republican Party and then ran the Trump campaign in the Mountain State in 2016. After his time as federal prosecutor, he defeated four-term Senator Ron Stollings, D-Boone, by double-digits in last year's election.
The supporters on hand for Stuart's Tuesday evening announcement included West Virginia Coal Association President Chris Hamilton and fellow senators Rupie Phillips, R-Logan, Mark Maynard, R-Wayne, Jay Taylor, R-Taylor and Kanawha County Chief Deputy Joe Crawford.
Stuart's four-year Senate term runs out in 2026. Weld's second term in the Senate ends at the end of 2024. State senators can run for other offices and still hold their seats.
Weld released a statement Tuesday evening in connection with others getting into the race.
"I welcome any candidate that joins the race and look forward to a campaign that is focused on the issues – because that's what West Virginians deserve – an attorney general who understands their concerns about Washington D.C.'s outrageous attempts to dictate our state's future to us," Weld said. "Over the next 12 months I plan on making it clear that I am the candidate most qualified to lead the fight against D.C and protect West Virginians' interests here at home."
Candidates don't officially file for next year's election until January 2024.