As the Environmental Protection Agency prepares to roll out significant proposed rules for power plants, Senator Joe Manchin says he'll oppose every nominee for the agency until the administration backs off.
EPA Administrator Michael Regan has a 9:30 a.m. Thursday announcement scheduled to describe new carbon pollution standards for coal- and gas-fired power plants.
The standards would require utilities to either reduce or capture emissions tied to climate change. One way of complying with the rules could be through the use of carbon capture technology, but that traditionally has been too expensive for viability.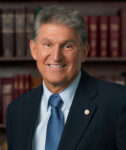 "This Administration is determined to advance its radical climate agenda and has made it clear they are hellbent on doing everything in their power to regulate coal and gas-fueled power plants out of existence, no matter the cost to energy security and reliability," stated Manchin, a Democrat who chairs the U.S. Senate Energy and Natural Resources Committee.
Manchin said in response, "I will oppose all EPA nominees until they halt their government overreach."
In a briefing with West Virginia reporters on Wednesday, Manchin had more to say.
"They're crazy. Totally insane. I can't clean this up any better than that," the senator said, elaborating that a reliable electric grid still requires coal production.
"Why can't this administration understand 'no means no.' You've got to have it reliable. Coal is basically dispatchable; it runs 24-7. OK, we have renewables. I'm for everything. I'm just not for taking off what I've got to have just because you want something you want to have that doesn't do the job."
Last year, the U.S. Energy Information Administration reported that 60 percent of energy generation was from fossil fuels like coal, natural gas and petroleum. About 18 percent was from nuclear energy, and about 22 percent was from renewable resources like wind or hydropower.
On refusing to confirm EPA nominees, Manchin said, "This is the only way I can get their attention to make sure they know we're for real; we're not going to allow this craziness to happen in this country. I'll do whatever I have to.
"I'm not hiding it. I'm telegraphing it for everybody to know how sincere: Don't be crazy."