Delegate Paul Espinosa announced his candidacy for a state Senate seat that has been held by Patricia Rucker for two terms. Rucker has announced her intention to run for re-election and says she isn't backing down.
Both are Jefferson County residents and have been Republican allies. But the electoral battle is another example of competition in Republican primaries even as the party continues to be dominant in statewide politics overall.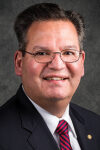 Espinosa announced his campaign for Senate during an appearance on "Panhandle Live" today on WEPN. Espinosa, a Charles Town resident, is serving his sixth term in the House of Delegates and is the speaker pro tempore.
"It's certainly something I've given thought to over the years," Espinosa said, "and now having served 12 years at the conclusion of my current term in the House, I just feel that I'm ready for a new challenge and the Senate will provide an opportunity to help ensure that the Eastern Panhandle has a team to ensure our voices are heard in Charleston."
Rucker, a Harpers Ferry resident, was first elected to the seat in 2016. She announced and kicked off her re-election campaign last month.
Her only comment about Espinosa's announcement was, "Clearly my friend Paul has some desire for change from being in the House of Delegates."
Rucker had been the Senate Education chairwoman from 2018 until late last year when leadership announced Amy Nichole Grady, a Republican from Mason County, would be taking over that role. 
Rucker announced and then withdrew a challenge for leadership of the chamber against current President Craig Blair, a Republican from neighboring Berkeley County.
During Espinosa's radio appearance, host Marsha Kavalek asked specifically if leadership recruited him to run for the seat.
"For me, it's just a matter of determining what makes the most sense for me and our constituents here in the Eastern Panhandle," Espinosa responded.
"I just believe I can effectively represent the Eastern Panhandle in the state Senate and make sure we have a strong voice. I've had a broad array of folks that have reached out to me, not only folks from around the Eastern Panhandle but folks around the state — and certainly gratified by the support that I've received to date."
He added, "None of us own the seats that we're in."