(Chad Scott Citynet Statewide Sportsline interview)
MORGANTOWN, W.Va. — As WVU football players enjoy perhaps their longest break of the year between the end of the spring semester and the start of summer workouts, new offensive coordinator Chad Scott offered a personal grade of his first spring ball leading the Mountaineer offense.
"I would give myself a B-plus because there's always room for improvement. We had a great spring," Scott said. "There have been several things particularly like pre-snap issues that we have had in the past that caused us not to be so good. We got better with that. Those are the things we can measure daily. We improved in that immensely."
Scott, promoted from running game coordinator in January, will utilize a pair of mobile quarterbacks and veteran groups of running backs and offensive linemen. West Virginia rushed the ball on 51 percent of their offensive snaps last year and it is widely expected that percentage will increase this fall.
"They will see a crafty offense. The reason I say that is because they will see an offense that will utilize several different players in different roles and in different positions on the football field. They'll utilize their abilities to be used across the formations.
"They'll also see an offense that will be simple in what we do but be very creative in how we design that play to be run."
When asked about one player that has made major strides throughout the offseason, Scott immediately answered with third-year running back Jaylen Anderson. Anderson played sparingly in 2022 until the season finale at Oklahoma State. Anderson toted the ball 15 times for 155 yards and a pair of touchdowns in WVU's 24-19 victory.
"We have always known he is very talented football player with the ball in his hands. His confidence coming off the end of the season he had, from that Oklahoma State game he had, he carried that momentum into the offseason.
"He can do some things when the play is there to be had, but he can also do some things when he just has to be creative and make things happen. He has that kind of ability."
Sophomore CJ Donaldson participated throughout spring drills after his promising freshman season was cut short by injury after just seven games. Donaldson scored a team-best eight touchdowns and he averaged six yards per tote last season. Scott says Donaldson has made major strides in picking up defensive players in pass protection.
"He is learning a lot more. And the reason I say that and I say that confidently is his understanding of pass pro. He did a great job in pass pro last season. In the spring, with our defense, we don't always know exactly what they are doing. And we don't want to because it is an opportunity for those guys to recognize things on their own. We were a hundred percent in that regard. He was in position the most to pick up the blitz and he did a phenomenal job just being able to see it."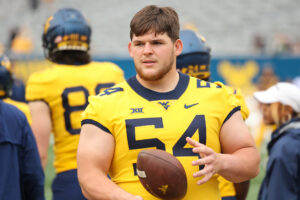 Anderson, Donaldson, Justin Johnson, Jr. and freshman Jahiem White will share carries with quarterbacks Garrett Greene and Nicco Marchiol. The signal callers will not necessarily need designed run plays to carry the ball.
"They understand the offense a lot more now where we don't necessarily have to have called run plays to get those guys going. They can run the offense and create runs on their own within the actual run game that we are calling. And they can extend plays and put themselves in position where they can run the ball. That's something they have really grown in."
Three-year starter and Fairmont Senior High School alumnus Zach Frazier will once again anchor West Virginia's offense at center.
"The guys love him and they respect him. He has always been a quiet guy and leading by example. If Zach Frazier can become that vocal leader this summer for us, we will take a huge step. That's something he said he feels comfortable doing."