CHARLESTON, W.Va. — Kanawha County Commission President Kent Carper was released from a hospital Saturday after undergoing open heart surgery two weeks ago.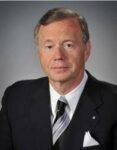 A statement released by the family said he would continue his recovery at home.
"The family appreciates the care he received from the doctors and staff at CAMC, as well as the care he received from the doctors and staff of WVU Medicine Thomas Memorial Hospital before he was transferred to CAMC. The family also thanks the community for the expressions of support he has received."
Carper's activities will be restricted for several weeks. A family spokesman said earlier this week that Carper suffered a stroke and a heart attack in the days leading up to his surgery.
Meanwhile, a Kanawha circuit judge has okayed a special prosecutor be appointed if one is needed as police continue to investigate a complaint made against Carper. A woman reported lewd activity at Daniel Boone Park.
Carper's family has said he was sick and what happened was an "awful misunderstanding."