CHARLESTON, W.Va. — A Kanawha County man admitted Monday that he killed a woman last summer and then hid her body in a freezer to cover it up.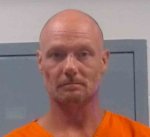 Samuel May, 44, of Cross Lanes, made a tearful apology for the beating death of Cindy Mudd.
May, who pleaded guilty to second degree murder in a Monday afternoon video hearing, said he found Mudd, 71, on the floor of their Cross Lanes residence the morning after he had been drinking at a local bar. He said he doesn't remember what day it was or what happened.
"I couldn't remember exactly what had happened but since the beginning I have taken full responsibility because of my prior violence when I black out when I drink when I choose to do that stuff," May told Kanawha County Circuit Judge Jennifer Bailey.
Kanawha County Assistant Prosecutor Michelle Drummond said testimony would show that May showed a third person living in the house, Arnold Hiller, Mudd's body on the floor the next morning. Drummond said Hiller would testify that May then kicked Mudd several times. Her body was then moved to her bedroom where she died a few days later. Drummond in an earlier hearing said that Mudd's injuries included broken ribs.
May said Monday that he should have called an ambulance.
"I panicked. I freaked out. I didn't know what to do at that time," May said. "I did not make a call that I should have for a ambulance for her and while trying to decide what to do when passed away."
May said he and Hiller then decided to put the body in a freezer to buy him some time to spend with his family before the inevitable. It was discovered by Kanawha County deputies last August.
"I done screwed up real bad and so I decided to try and hide what I had done and spend more time with my family if possible," he said.
May apologized for what happened.
"I'm sorry for what I done. I wish I could take it back," he said choking back tears.
Drummond said the prosecution will push for a 40-year prison term. Bailey set sentencing for Aug. 2.
Hiller, who said the body was in the freezer for about 30 days, pleaded guilty in January to concealment of a dead body. He was also originally charged with using Mudd's credit card after she died.