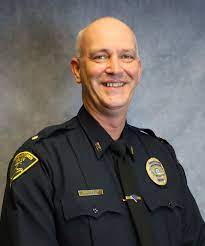 MORGANTOWN, W.Va. — Police Chief Eric Powell addressed councilors during their regular meeting about the life and contributions of Patrol Officer First Class and K-9 handler Zane Breakiron.
Breakiron was fatally injured in a June 3 crash on I-43 near the Pennsylvania border. The crash is being investigated by the Monongalia County Sheriff's Department, and no details have been released regarding the circumstances.
"He probably was an officer who was the epitome of what a police officer should be," Powell said. "Throughout his career, from the time he started, he possessed all the qualities that are vital to being a good officer."
Breakiron was a positive, compassionate police officer who took pride in his work and service to the community. Breakiron was also a member of the underwater search and rescue team and served as a physical trainer.
His obituary said he shared a special bond with his father through working out and the outdoors together. Additionally, they tended their goats and chickens together with their K9 companion, Neo.
"He was rarely seen without a smile on his face," Powell said. "That sort of encapsulates his entire persona and the way he went about his daily life and his job as a police officer."
Powell said Tuesday would have been a celebration, but instead officers are reaching out to the family and offering comfort to each other.
"Today, ironically enough, would have been his seven-year anniversary," Powell said. "June 6, 2016 was when he was hired into the department."
Powell addressed councilors before the start of the regular meeting with a wreath that prominently featured the smile Powell spoke of earlier.
"I just wanted some of you that may not have known him to know the quality of person he was," Powell said. "The loss is staggering for us."
Visitation will be held at the Abundant Life Church, 1239 Brownfield Road, Uniontown, Pa., from 4 to 8 p.m. Wednesday, June 7, and from 1 to 8 p.m. Thursday, June 8. A celebration of life will also be held at the church at 10 a.m. on Friday, June 9.
In lieu of flowers, the family has requested a memorial contribution be made to the WV Law Enforcement Police K9 Fund.