MORGANTOWN, W.Va. — While their styles of play differ, annual expectations and lengthy postseason runs are a common theme for Fairmont Senior and Bridgeport. The Big 10 rivals will meet in the next chapter of one of West Virginia's great rivalries Friday evening at Wayne Jamison Field.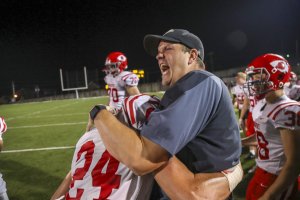 Bridgeport has won at least one postseason game for 16 consecutive seasons. Fairmont Senior has won 22 playoff games since 2015. The teams have combined for seven state championships over the last decade.
The Indians have won the last three meetings in the series, including a 24-21 triumph last year at East-West Stadium. Prior to Bridgeport's three-game win streak, the Polar Bears won the previous four meetings.
Bridgeport (2-1) is ranked No. 7 in this week's MetroNews poll. Fairmont Senior (3-0) is the top-ranked team in Class AA.
The Polar Bears have outscored their three opponents 160-34 and their starters have played only a handful of snaps in the second half of games. The Indians posted a pair of lopsided wins over Buckhannon-Upshur and John Marshall sandwiched by an 8-point loss to Morgantown.
"You hate the unknowns. When your kids haven't played four quarters, it is a concern there. I'm glad we got tested with Morgantown a few weeks ago. I think that helps us," said Bridgeport head coach Tyler Phares.
"We have a formula with what we are trying to do and they have stuck with that," said Fairmont Senior head coach Nick Bartic of the team's 3-0 start.
FSHS junior quarterback Brody Whitehair has passed for 719 yards and ten touchdowns with two interceptions. He has also rushed for a pair of scores.
"Anytime you have a kid that can run and throw back there, you've got to be good in all facets of the game. We're excited for the challenge. Our kids have been preparing. And that's the good thing about May, June and July. You can kind of prepare for a spread team more than a physical run team," Phares said.
"We've got to make tackles in space. That's really what they want to do to you is put very good athletes in space one-on-one and try to make plays. We've got to do everything we can to get them down. If one person can't, there better be two and three there."
Senior Dylan Ours is the leading rusher for the Polar Bears. He is averaging ten yards per carry [200 yards on 20 carries]. Ours also has three return touchdowns on special teams.
"They will move him all over the field. He is a tremendous athlete," Phares said. "You'll see him at wide receiver. You'll see him with passes coming out of the backfield. They'll run some option and do some things. I am sure they will line him up at some point and direct snap to him. We've got to be prepared for all those little things."
Seven Indians have scored a rushing touchdown in the team's first three games. Senior Zach Rohrig is averaging 192 rushing yards per game and he has scored seven touchdowns. Josh Love is averaging 101 rushing yards and he has found the end zone four times.
Bartic has been pleased with the progress of his offensive and defensive lines but he acknowledges that the biggest test to date will come Friday.
"The physical part is what can wear you down on the mental side of it," Bartic said. "That's something that we always stress to our guys that it is going to be a physical game. You can't get caught up in that and lose the mental aspect of it. That is the challenge. That's why they have been successful for so long as a program. It is hard to balance both of those out and be able to play that way for 48 minutes or longer."
Fairmont Senior enters this week as one of ten unbeaten teams in Class AA. The Polar Bears are ranked fourth in the SSAC ratings. A win over the Indians would likely vault them near the top of the ratings.
"You try to approach everything like this is just another week. But it is not. There's always more energy. There's more riding on it. It is local. It is the [Big 10] Conference. It is a big [ratings] point game even though it is early and it is Week 4," said Bartic.
"It always has the energy and atmosphere of a state championship-type game."