WASHINGTON, D.C. — U.S. Senator Joe Manchin refutes a Washington Post report that says former President Bill Clinton urged him in a recent meeting not to run for president next year as a third party candidate.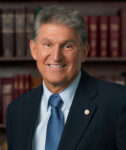 "That tells you that you can't believe what you read. That is absolutely inaccurate. We never had that conversation period," Manchin told host Hoppy Kercheval Thursday on MetroNews "Talkline."
Kercheval followed up.
"Bill Clinton did not tell you don't run?"
"Absolutely not," Manchin said. "Never even talked about it. We talked in generalities of all the things and challenges that we have in this country and how we can best bring it together. We never got into that."
Manchin met with Clinton in The Hamptons last weekend.
Manchin repeated again Thursday he hasn't made up his mind yet about 2024.
"I'm considering the best way for me to serve my state and my country. I have made no decisions yet and not planning to do so before the end of the year," Manchin said.
He said he'll continue to have meetings like the one he had with Clinton last weekend.
"When I get a chance and people are talking about how we best serve and what we would have to do and our greatest concerns and our great challenges—we have many but have an opportunity to do some great things," Manchin said.
Manchin said he'll be on the West Coast this weekend for meetings,
His Senate seat is up next year but some polls have shown he would have a tough time keeping the seat if he runs against Gov. Jim Justice. Manchin has previously said any race he enters he'll win.
Manchin admitted he's struggling with the decision about 2024.
"That's absolutely true because I love my country and I love my state," Manchin said.
No to WVU president
Manchin also said on "Talkline" Thursday he wanted to put rumors to rest that he is interested in being the president of West Virginia University.
"I have no interest in serving as university president," Manchin, a WVU grad, said. "I'm going to be there as their biggest cheerleader, Rah, Rah, Rah, every day."
Manchin said he's supporting current WVU President Gordon Gee and his administration in their current rightsizing of the university.