MORGANTOWN, W.Va. — A group of WVU students chanted 'Stop the cuts! Stop the cuts!' as WVU's Board of Governors started vote Friday on millions of dollars of academic budget cuts.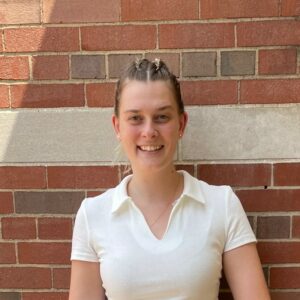 The students left the meeting room and then moved to the hallway where their chanted interrupted the meeting several times. University Police officers escorted the students out of the building they relocated outside the windows where the meeting was to resume chants and protests.
Dover, Delaware resident Lily Wagner graduated last year with a bachelor's degree in soil and water sciences that will now be combined with other majors. Wagner is a second-generation mountaineer behind her mother, and she's now concerned about the value of her degree in the future.
"Cutting faculty so there are fewer faculty to support students is not going to help anything; it's not going to help retention rates, and it's really hard to watch," Wagner said. "All my friends that are still here and affected and my professors—I'm not proud as an alumna; I'm not proud at all."
Shelby Meador, a senior biology major from Shady Spring, is a first-generation college student who has opposed the cuts, though she said her program would be changed. However, Meador said the lack of transparency and the rushed manner in which the transformation was handled will change her future academic plans, limiting her options.
"I'm graduating pretty soon, and I was thinking about maybe doing a graduate program here, but I'm completely changing my mind," Meador said.
Christian Crawford came to WVU this fall after graduating with an associate degree from Blue Ridge Community and Technical College last year. Crawford came to pursue a degree in Environmental and Community Planning, planned for discontinuance, and said he learned of academic transformation through a university email the day before he moved to Morgantown. Based on information from the university, Crawford said he believes discontinuance will be delayed one year so he can pursue a teaching position in the future.
"That would let me get enough credits that I would qualify for the test," Crawford said. "But, even if I did qualify for the teach-out, teach-outs are not going to be the same quality as a regular education."
Lisa DiBartolomeo, Teaching Professor of Russian Studies and Slavic and East European Studies, said with the discontinuance of the World Language, Linguistics, and Literature program, she expects to end her employment when her contract ends in May 2024. As a West Virginian, an alumna, and a donor to the university, she believes future students will not be prepared for international scholarships or jobs in the global community and expressed anger.
"Everyone in West Virginia has lost something really important today," DiBartolomeo said. "It may take a little while for people to realize it, but this is a dramatic decision that will have far-reaching consequences for students, faculty, the state, and the community."
WVU Faculty Representative on the BOG, Dr. Stanley Hielman, voted "no" to accurately express faculty concerns. Hielman acknowledged the university had to act in order to prevent the budget problem from growing, but he would have preferred having more time and options to meet the structural budget issues.
"The administration has chosen to address it in the way they have with the transformation process," Hielman said. "That's their choice; the faculty did not support that process, so that's how I voted."