HINTON, W.Va. — A judge in Summers County has agreed to postponed a murder trial that was set to start next week.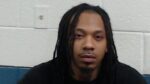 Steven Lawson, 29, of Beckley, will now likely go on trial early next year.
Lawson is charged in the 2020 murder of Azareyiah Mitchell of Oak Hill. The 17-year-old's remains were found in Georgia but state police said she was killed in Summers County. Mitchell was last seen in West Virginia in late September 2020.
Lawson is charged with first-degree murder, child abuse resulting in death, concealment of a dead body, and conspiracy to commit concealment of a dead body.
The defense made the motion to postpone the trial in a Friday hearing.
Lawson is in the South Central Regional Jail without bail.