STAR CITY, W.Va. — Frustration is growing in Monongalia County regarding maintenance in rights-of-way areas.
Star City Recorder Steve Blinko said DOH officials have not responded to multiple attempts to even discuss the issue, as weeds as tall as 36 inches in some areas are the first thing visitors see driving through or arriving in the area. The lack of communication has ignited frustrations among local leaders, according to Blinko.
"Every citizen in Monongalia County and across the state and country is asked to take care of their property," Blinko said on WAJR's "Talk of the Town." "The state and the DOH are no different; they have to take care of their property, or we're going to have to get our code enforcement involved."
Included in the requests for action have been offers to help, but those offers have been rejected. A proposal from State Senator Mike Oliverio, R-Monongalia, would allow the maintenance to be done with local forces in exchange for the dollars budgeted by the DOH.
"As local officials, we want to be positive, and we want to come to the table with solutions," Blinko said. "But we also need to be firm and let the folks know we can no longer put up with this."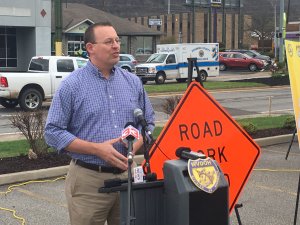 Joe Pack, DOH chief engineer, told lawmakers earlier this month that West Virginia has mowed more than 44,000 miles this year.
Pack told members of the Oversight Commission on Department of Transportation Accountability that the highways agency aims to do even better.
Of a recent allocation from annual state surplus to be used for equipment, Pack said, the agency prioritized purchasing 107 tractors with mowing decks.
Blinko said his concerns also come from his full-time job as a teacher and coach at Morgantown High School and other duties as a member of the Morgantown Area Partnership Board of Directors and member of the Morgantown Monongalia Metropolitan Planning Organization Policy Board.
"Safety, first and foremost—for my students, for our pedestrians, for the bus drivers, for the regular commuters," Blinko said. "These issues are about safety not just aesthetics."
Over the next 24 months, the DOH will administer about $100 million in major infrastructure improvements, and that number could grow to $250 million in the next five years. Blinko anticipates major issues if the DOH is unable to respond effectively to basic maintenance issues.
"Exit 155, the Star City exit, Chaplin Hill, Green Bag Road, new bridges to the Morgantown Industrial Park, Harmony Grove, and Holland Avenue—those are all over Monongalia County," Blinko said. "We need to make sure we can cut grass and move snow this winter before we can really have great relationships on these major projects."
During a recent joint meeting of the Monongalia County Commission and Morgantown City Council, multiple members of each body said multiple requests for information or a meeting had been rejected by the DOH. But officials plan to continue those efforts as well as engage with local state lawmakers to at least arrange a meeting.
"The county commissioners are working hard, city Morgantown officials are calling constantly, their legal teams are trying to figure out what they can do, and the Star City mayor is doing what she can do," Blinko said. "We just don't know what to do at this time."