MORGANTOWN, W.Va. — After less than six months on the job, the American Civil Liberties Union of West Virginia has parted ways with executive director Danielle Walker.
MetroNews has confirmed Walker, a former member of the House of Delegates from Monongalia County, is no longer with the organization.  
"We are unable to provide comment at this time, as this is a personnel matter. We can confirm that Eli Baumwell has been serving as the interim executive director since Sept. 15," said Anne Farmer, president of the ACLU-WV Board of Directors in a statement to MetroNews.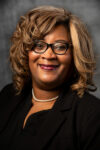 Walker was announced as the new executive director of the ACLU-WV on April 1, becoming the first black woman to lead the organization. At the time, Walker called her selection a "humbling honor." 
Requests for comment from Walker were not returned. 
Walker's predecessor, Joseph Cohen, praised her selection and described her as a visionary leader. 
"She is committed to the ACLU's principles, and she will inspire the next generation of leaders in West Virginia. I could not imagine a more perfect person to take over the organization that I love so much," Cohen said.
Walker resigned from her seat in the House of Delegates and resigned from her role as vice-chair of the West Virginia Democratic Party to take the job with the ACLU-WV. 
Walker was first elected to the House of Delegates in 2018 and became one of the chamber's most outspoken, progressive members. During her time in the legislature, she referred to the ACLU-WV as a "steadfast and fierce advocate." Walker led protests at the capital against abortion bans as well as bans on gender-affirming care for children. 
Baumwell served in the same role prior to Walker's appointment in April. He did not seek the permanent job earlier this year.