MORGANTOWN, W.Va. — Six games on Friday night and six games on Saturday afternoon will produce the 12 semifinalists in the WVSSAC High School Football Playoffs presented by Toyota.
Class AAA:
No. 8 Bridgeport (10-1) at No. 1 Cabell Midland (10-1) – Friday, 7:30 p.m.
For the second consecutive season, Bridgeport and Cabell Midland will meet in the Class AAA playoffs. In last year's opening round, the Indians defeated the Knights, 41-13 at Wayne Jamison Field. This time, the scene shifts to The Castle in Ona.
"Triple-A football on the road is tough. Our kids know that and we are preparing for that. We had our best practice of the year [Tuesday]. It was great to see that our kids are dialed in," said Bridgeport head coach Tyler Phares.
"Our scout team stepped up tremendously. They ran their offense as well as you could expect."
Last week, Bridgeport held off a late rally from George Washington to defeat the Patriots, 28-27. The top-seeded Knights posted their second win over Musselman, 63-22 in the opening round.
No. 7 Spring Mills (9-2) at No. 2 Huntington (10-1) – Saturday, 1:30 p.m.
The Cardinals have set a program-record for victories in a season. Now they are looking to make their deepest postseason run in school history. Spring Mills collected the program's second postseason victory with a 20-17 triumph over Spring Valley last week.
Now the Cardinals will be tested by a long trip and a matchup against the defending Class AAA state champions from Huntington.
"That's going to be a challenge," said Spring Mills head coach Marcus Law. "We look forward to it. It is definitely an uphill battle for us."
The Highlanders advanced to the quarterfinals with a 59-13 win over Morgantown last Friday.
No. 6 Jefferson (9-2) at No. 3 Martinsburg (10-0) – Friday, 7:30 p.m.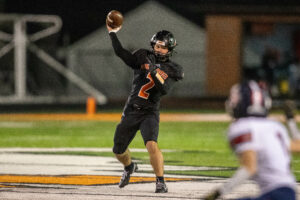 The Cougars have a chance to avenge one of their two regular season losses when they make the short trip to Cobourn Field to face the Bulldogs.
Jefferson defeated Wheeling Park, 21-14, advancing to the quarterfinal round for the third consecutive season. The Cougars are looking to make school history with their first semifinal appearance.
Martinsburg remained the only undefeated Class AAA squad with a 55-7 win over Parkersburg South. MHS has won 14 consecutive games against the Cougars, dating back to the 2007 season.
No. 13 Parkersburg (7-4) at No. 5 Princeton (10-1) – Friday, 7:30 p.m.
The Big Reds are the lone lower-seeded team to advance in the opening round of the Class AAA playoffs. Parkersburg defeated Hurricane, 47-23 to secure the program's first postseason victory since 2018.
Parkersburg visits a Princeton team that defeated Oak Hill, 37-7 in the program's first playoff home game since 2002.
"Coach [Keith] Taylor has them playing with a ton of enthusiasm. That's how you have to play this game, with excitement and enthusiasm. Offensively and defensively, their lines start their success," said Parkersburg head coach Matt Kimes.
"We know we are going to have our hands full. They are an explosive team. They have not just one guy who can take it to the house, they've got multiple guys that can take it to the house. That makes you be sound defensively in your alignments and make sure your eye discipline is well-coached."
Class AA:
No. 9 Herbert Hoover (8-3) at No. 1 North Marion (10-1) – Saturday, 4 p.m.
Four weeks after North Marion defeated Herbert Hoover, 21-14 in the "Husky Bowl", Hoover will return to Marion County. HHHS defeated East Fairmont, 28-14 in the opening round. They look to avenge a regular season loss in the quarterfinal round for the second consecutive season.
North Marion defeated Lincoln, 35-14 in their playoff opener. The No. 1 seeds jumped out to an early lead and NMHS head coach Daran Hays says his team's level of play dipped late in the game.
"As soon as we felt like the game was in control, our effort kind of followed. We can't allow that to happen," Hays said. "We just have to lock in on the moment. The key for us all week and the message for us all week is to just focus on that down and that play."
No. 5 Weir (10-1) at No. 4 Scott (10-1) – Saturday, 1:30 p.m.
In the lone Class AA quarterfinal where both higher-seeded teams advanced, the Red Riders make a long trip to West Madison to face the Skyhawks. Weir defeated Frankfort, 23-21 in the opening round and they are looking to advance to the state semifinals for the first time since 2018.
The Skyhawks avenged a regular season loss to Nitro, 27-0 last Saturday. Scott senior quarterback Matt Frye expects to see a number of different looks from the Weir secondary.
"I have watched a lot of film on them and they have went with everything from man-free to quarters," Frye said of the Weir defense. "They rally to the ball well and they have shown a lot of different coverages. We are just going to have to try to prepare for everything."
No. 10 Philip Barbour (9-2) at No. 2 Fairmont Senior (8-2) – Friday, 7:30 p.m.
Big 10 Conference squads Philip Barbour and Fairmont Senior will meet for the first time since 2003. The Colts collected the program's first postseason victory with a 28-21 win at Mingo Central.
The Polar Bears received a stern test from No. 15 Wayne at East-West Stadium. FSHS rallied for a 31-27 win to advance to the quarterfinal round for the ninth consecutive season.
No. 14 Independence (7-3) at No. 6 Winfield (9-2) – Friday, 7:30 p.m.
The Patriots kept their season and their Class AA state title defense alive with a 54-21 win at Roane County. IHS is in the quarterfinal round for the fourth consecutive season.
"They can adapt really well to anything you do," said Independence head coach John H. Lilly of the Generals. "When you throw different packages at them, we like to run personnel groupings, they can easily adapt to those groupings without making personnel exchanges. They really get to the ball and rally to the ball really well."
Winfield is in the second round for the second time in two seasons under Eddie Smolder. The Generals defeated Lewis County, 57-14 in the opening round.
"Independence is the returning state champion. When you hear that, you know they are going to be good and be respected," said Smolder. "To win it all, you have to have a good program and a good system and good kids."
Class A:
No. 8 Cameron (10-1) at No. 1 James Monroe (9-1) – Saturday, 1:30 p.m.
Top-seeded James Monroe clinched a third consecutive state quarterfinal appearance with a 48-15 win over Sherman.
The Dragons defeated Man, 40-8 in their opening-round matchup. Cameron is in the Class A playoffs for the seventh time in the last eight seasons. Cameron averaged 47.8 points per game in the regular season, the third-best in Class A.
No. 5 Wahama (11-0) at No. 4 Greenbrier West (11-0) – Friday, 7:30 p.m.
A pair of undefeated teams will share the new turf in Charmco Friday night. The White Falcons have scored 613 points in their 11 victories. They advanced to the quarterfinals with a 65-14 win over Summers County.
"We are climbing a mountain and we are still not on top. Everything we worked for in the offseason and during the season is to get where we are right now," said Wahama head coach James Toth. "Friday night is just one step closer to where we want to be. It is going to take our very best effort to be there."
Greenbrier West has allowed 59 points in their 11 wins. The Cavaliers shutout Wirt County, 49-0 in the opening round last week. West has advanced to the Class A quarterfinals for the fourth time in the last five seasons.
No. 11 East Hardy (7-3) at No. 3 Williamstown (11-0) – Saturday, 1:30 p.m.
East Hardy secured their fifth consecutive state quarterfinal appearance with a 38-30 win at St. Marys. The Cougars have advanced to the second round of the playoffs for the ninth time in the last ten years.
"We are going to try to slow them down the best we can and see if we can do it a little bit better than other teams have done it," said East Hardy head coach Devon Orndorff. "It is a really well-rounded team."
Defending state champion Williamstown owns the state's longest win streak across all classes at 16 games. The Yellowjackets defeated Doddridge County, 49-6 in the first round.
"The main thing is to get locked in and not get relaxed," said Williamstown senior quarterback Maxwell Molessa. "We have been pretty intense and keeping everyone's mind right so that we can finish out the season the way we want to."
No. 7 Tug Valley (9-2) at No. 2 Tucker County (11-0) – Saturday, 4 p.m.
The Panthers and the Mountain Lions are meeting for the first time. Tug Valley held off a late rally from Tyler Consolidated, 28-26 last Friday.
"We are learning from every game, win or lose. When we lost the Man game, some of them were hurt really bad. I said, 'Let the pain stick because that's what you need to fuel you to the next round'," said Tug Valley head coach Hady Ford. "We don't want that pain anymore. So they have to learn to fight through those things."
Tucker County is one of four remaining undefeated teams in Class A. The Mountain Lions advanced to the second round with a 46-6 win over Midland Trail. TCHS is seeking their first state semifinal appearance in 11 years.
"They are a big, physical team," said Tucker County head coach AJ Rapp of the Panthers. "If you look at some of my teams in years past, most of the time we were the bigger team. That's not the case this year. That's something I have had to learn. I am bad about watching people in pregame and saying, 'Oh Lord, they are bigger than us'. But for us being a little undersized, our kids play."