CHARLESTON, W.Va. — The state Lottery Commission has approved the purchase of Mountaineer Casino, Racetrack and Resort by Colorado-based Century Casinos.
The unanimous vote came Wednesday morning at the commission's monthly meeting in Charleston. Century is buying the Chester-based Mountaineer for $107 million from Eldorado Resorts. The purchase is expected to officially close early next year.
Century Casinos Co-Chief Executive Officer Erwin Haitzmann, who attended Wednesday's meeting, told MetroNews Mountaineer fits "very well" into his company's portfolio.
"Century already has two racetrack casinos. So this would be the third one," Haitzmann said.
State Lottery Director John Myers said Century operates medium-sized casinos and that should help Mountaineer.
"I think that's been the way they've been able to grow their company. They don't try to take on too big of a property, they take on the size they are used to managing and they can apply the same principles across all those properties," Myers said.
He said it also should help that Century operates casinos that have horse racing like Mountaineer.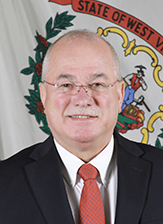 "It ought to be a good match," Myers said.
Haitzmann has visited the Mountaineer property in Hancock County several times and he's been introduced to the workers. He said he likes what he sees.
"My impression is that it's a great staff and we want to keep everyone from the general manager down to the lowest level," Haitzmann said. "We have no intention of making any changes. We think it's a wonderful group of people."
Mountaineer originally opened in 1951. It became a casino in 1994. It includes a 357-room hotel, nearly 1,500 slot machines and 36 table games. The operation is not as large as it used to be because of gambling competition from neighboring states. Haitzmann said they won't back down from the competition and hopes to grow the operation.
"Mountaineer used to be larger and with all the real estate available we see an upside and the possibility to grow further," he said. "Mountaineer is profitable now, you may say, in spite of the competition. I think it's a healthy competition for the customers and think we're well-equipped to get our fair share of the market."
Century owns and operates casinos in Colorado, Canada and England.