CHARLESTON, W.Va. — A second iGaming app is set to launch in West Virginia and sports betting will resume at two casinos, the state Lottery Commission learned during its Wednesday meeting.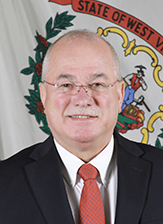 Lottery Director John Myers told the commission the casino at The Greenbrier Resort was set to begin its iGaming app with MGM by Wednesday evening.
"That will be our next interactive gaming provider here in the state, our second one," Myers said.
Hollywood Casino at Charles Town Races began offering the betting option through Draft Kings last month.
Myers also told the commission Delaware North is ready to resume sports betting at its retail location at Mardi Gras Casino in Nitro and through its mobile app starting Thursday. Wheeling Island Casino, also owned by Delaware North, is scheduled to resume sports betting next Wednesday, Sept. 2.
"Both of these will be a soft opening," Myers said. "They're not going to be doing a lot of promotional activity at the beginning. There will be no promotional wagering either until they get things up and running a little better."
Delaware North stopped sports betting because of the pandemic. It marked the second suspension of the operation in as many years. It's original operation closed in March 2019 following a contract dispute between the management services provider Miomni and a third party vendor. Delaware North started a new contract with IGT in January.
Myers said it will be good to have the Nitro and Wheeling properties back up and running with sports betting.
"We'll work with them every way we can," Myers said.
The commission also learned Wednesday that testing will begin next week at Mountaineer Racetrack and Casino in Chester on a new mobile sportsbook app from William Hill.
Lottery finances
The first month of the new fiscal year produced a mixed bag of revenue collections for the Lottery.
Wednesday's report said gambling revenue was $93.9 million for the month including $19.4 million in traditional game sales, a 28 percent increase from July 2019. Profits from instant games were up 42 percent for the month.
Revenues were below estimates for the month in Racetrack Video Lottery while Limited Video Lottery was $5.3 million above projections.
Lottery Commission Ken Greear praised the Lottery marketing staff will increasing exposure of the Lottery's products on social media.
"It's obvious the efforts are paying off now. The efforts we put in before the virus—it's now obvious you are reaching many more," Greear said.
Greear said it's also to the credit of the Lottery staff that they've been able to get iGaming up and running and the resumption of sports betting while working under the limits of a pandemic.
"Under the circumstances of people working at home and certainly not optimum opportunities," Greear said. "This again reflects on the dedication of the staff, the efforts put forth, and the leadership here at the Lottery."
Casinos in West Virginia have yet to resume 24-hour operations. They are closing in the early morning hours for deep cleaning.