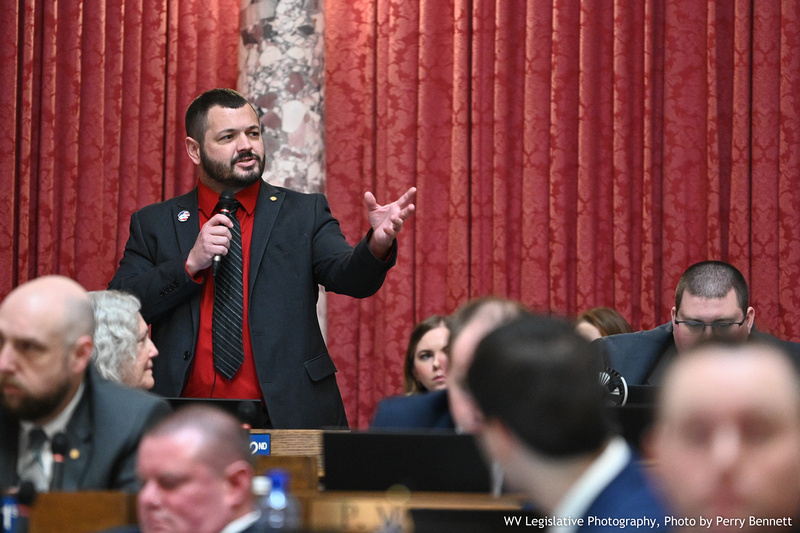 My experience over the years covering the West Virginia Legislature is that most of the members are good and decent people who want to help their state and are concerned about doing the right thing.
However, the bell curve of life being what it is, the chambers are also occupied by the occasional ignoramus. Delegate Joe Jeffries,* R-Putnam, is the most recent example of a lawmaker who occupies that position with great distinction.
Last week, Jeffries posted a short video on the social media platform TikTok where he gives graphic "advice" for how women should receive oral sex.  Reportedly, Jeffries thought the posting was funny and no big deal.
No one is laughing, and it IS a big deal when a public official brings shame not only on himself, but also on the people who voted for him, the West Virginia Legislature and the entire state.
Governor Justice has called on Jeffries to resign. "This is the behavior of an immature child, not a 39-year-old father and elected official," Justice said.
House Speaker Roger Hanshaw stripped Jeffries of his position as a committee vice-chair. "Carrying out the will of the people is serious work, and I expect better behavior, even in what they believe is their private time," Hanshaw said.
The Putnam County GOP Executive Committee blasted Jeffries.
"Content of this nature does not represent the values of the Putnam County Republican party," the executive committee said.  "While all American citizens are entitled to their right to freedom of speech, the Putnam County Executive Committee expects our public representatives to conduct themselves with professionalism on all public forums."
It is not the first time Jeffries has been crude.  As our Brad McElhinny reported:
"Late in the regular session, when tensions ran high between delegates and senators over a bill that would have restricted the governor's emergency powers, Jeffries was accused of yelling a graphic comment about Gov. Jim Justice at a group of senators."
Notably, and perhaps ironically, one of the bills sponsored by Jeffries during the session forbade the teaching of sexuality in public schools.  Jeffries also sponsored a bill to remove any mask mandate in the state.
Delegate Jeffries was among a handful of lawmakers who during the session mocked the mask requirement by wearing a mesh mask.
Neither one of those bills gained any traction, nor did another bill sponsored by Jeffries providing for the creation of a special state license plate that read, "Don't Tread on Me."
Ultimately, Jeffries is responsible to the voters of Delegate District 22 (parts of Putnam, Lincoln and Boone Counties) who have elected him twice.  They must seriously consider whether Jeffries' crude and embarrassing behavior reflects their best interests.
Or Jeffries could save everyone the trouble and follow the advice of Governor Justice—just go away.
*(Delegate Joe Jeffries should not be confused with Delegate Dean Jeffries or Senator Glenn Jeffries.)