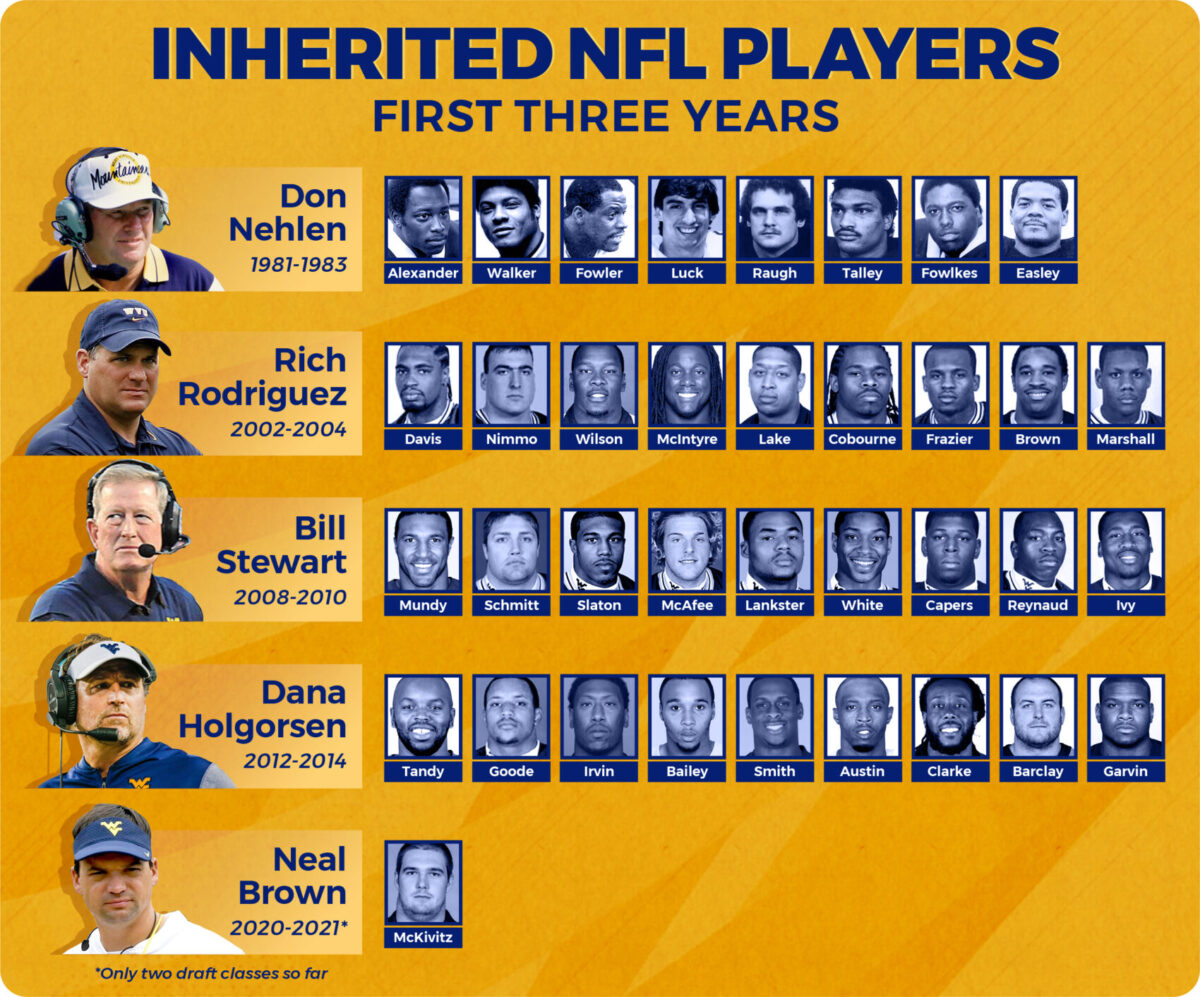 MORGANTOWN, W.Va. — When Neal Brown became West Virginia's head coach in January 2019, the Mountaineers were coming off three straight losses to end an 8-4 season.
Only six weeks before Brown replaced Dana Holgorsen, West Virginia was in position to play for a Big 12 Conference Championship before suffering consecutive defeats to Oklahoma State and Oklahoma by a combined seven points.
Now in Brown's third season, West Virginia is 2-3 ahead of Saturday's matchup at Baylor, leaving the former Troy coach 13-14 in his WVU tenure. Three of the 13 victories are over FBS opponents, while two others are against Big 12 bottom feeder Kansas.
The Mountaineers face an uphill climb to qualify for a bowl this season after finishing 6-4 with a Liberty Bowl win over Army in a pandemic-plagued 2020 campaign.
While Brown has struggled to win as frequently as past WVU coaches over their first few seasons, many West Virginia fans have been left asking why.
Part of that answer can be found examining the players each coach inherited who went on to to be NFL draft picks or carve out a career in the NFL through free agency.
When Brown took over at West Virginia, he did so following the loss of a successful senior class and working through attrition that left him with a roster short on scholarship players and high-end Big 12 talent.
West Virginia was favored in two of 12 games in 2019 — vs. James Madison and at Kansas.
WVU won those two, knocked off North Carolina State and prevailed in contests at TCU and Kansas State to finish 5-7 in Brown's first year.
One player from that team — offensive lineman Colton McKivitz — was selected in the 2020 NFL draft, going to the San Francisco 49ers with the 153rd overall pick. One pick prior to the selection of McKivitz, former WVU safety Kenny Robinson went to the Carolina Panthers. However, Robinson never played for Brown after being expelled for academic fraud and moving on to play in the XFL.
WVU's only pick in the 2021 NFL draft was linebacker Tony Fields, who transferred from Arizona to play his final season in Morgantown. While Fields was considered by many to be the Mountaineers' best player last season, he was one Brown added, not inherited.
This year's team may possess a draft pick or two, but there appears to be no sure-fire selection, making it entirely possible Brown inherited one NFL player over his first three seasons at West Virginia from when he took over in 2019.
That pales in comparison to each of his four predecessors, who inherited at least eight future NFL players and a current or likely future member of the WVU Sports Hall of Fame at quarterback over their first three seasons.
A look at what the coaches that came before Brown inherited in chronological order:
Don Nehlen
Nehlen replaced Frank Cignetti before the 1980 season. While West Virginia was coming off four consecutive losing seasons, it had finished 5-6 three of those years, including in 1979.
Nehlen helped guide the Mountaineers to a 6-6 campaign in 1980, before they would go on to finish 9-3 each of the next three seasons.
From 1981-1983, West Virginia sent eight players Nehlen inherited to the NFL: running back Robert Alexander, cornerback Fulton Walker, defensive end Delbert Fowler, quarterback Oliver Luck, tight end Mark Raugh, linebacker Darryl Talley, linebacker Dennis Fowlkes and fullback Walter Easley.
Fowler, Walker and Alexander were each picked in the 1981 draft, while Luck was selected the following year in the second round.
Talley was a second-round pick in 1983 and Raugh came off the board later that draft.
Easley, meanwhile, was with the 49ers from 1981-1982 and won a Super Bowl, while Fowlkes was a member of the Minnesota Vikings organization from 1983-1985 and later went on to play a season with the Miami Dolphins.
Rich Rodriguez
Nehlen's last season manning the sidelines in Morgantown was 2000 when West Virginia finished 7-5 and won the Music City Bowl.
Rodriguez took over in 2001 and the Mountaineers finished 3-8, including 1-6 in the Big East Conference.
By 2002, however, WVU turned things around and went on to finish 9-4 — the first of 10 straight seasons with at least eight wins.
Rodriguez inherited eight players who started an NFL career between 2002 and 2004: Offensive lineman Lance Nimmo, linebacker James Davis, running backs Quincy Wilson and Avon Cobourne, fullback Corey McIntyre (McIntyre primarily played defense at WVU), defensive tackle Antwan Lake, cornerback Lance Frazier and wide receiver Antonio Brown.
Of those eight, Nimmo, Davis and Wilson were NFL draft picks, while the other five carved out NFL careers through free agency.
Cobourne remains West Virginia's all-time leading rusher.
Rodriguez also inherited quarterback Rasheed Marshall, the 2004 Big East Offensive Player of the Year and a fifth-round selection by the 49ers in 2005, giving the former WVU coach nine inherited NFL players through his first few seasons in Morgantown.
Bill Stewart
Following a 10-2 regular season in 2007, Rodriguez left West Virginia to become the head coach at Michigan, allowing Stewart to guide the Mountaineers in the 2008 Fiesta Bowl against Oklahoma.
West Virginia produced one of its more memorable performances in program history and defeated the Sooners 48-28, helping Stewart land the head coaching gig.
From 2008-2010, each of Stewart's three seasons as head coach, WVU would finish 9-4.
Starting with the Fiesta Bowl victory over the Sooners, Stewart inherited nine NFL players, three of which were NFL draft picks in 2008 — running back Steve Slaton, fullback Owen Schmitt and safety Ryan Mundy.
WVU had three more players chosen in the 2009 NFL draft in quarterback Pat White, cornerback Ellis Lankster and kicker/punter Pat McAfee.
The Mountaineers' lone selection in the 2010 draft was offensive lineman Selvish Capers, while wideout Darius Reynaud and linebacker Mortty Ivy began NFL careers through free agency starting in 2008 and 2009, respectively.
White was 35-8 as a starter at WVU and became the first quarterback to start and win four straight bowl games. He is the second all-time leading rusher at West Virginia and three places in front of Slaton, who remains fifth despite playing three seasons.
Dana Holgorsen
Holgorsen took over for Stewart before the 2011 season, and the Mountaineers won their last four games and a Big East championship that year, which culminated with a 70-33 triumph over Clemson in the Orange Bowl.
Defensive end Bruce Irvin, linebacker Najee Goode and cornerback Keith Tandy were selected in the 2012 NFL draft, with Irvin becoming the first West Virginia player chosen in the first round since cornerback Adam "Pacman" Jones in 200.
Three of the most accomplished offensive players in school history — wideouts Tavon Austin and Stedman Bailey and quarterback Geno Smith — were each 2013 NFL draft picks, with Austin chosen 8th overall to give the Mountaineers consecutive years with a first-round pick.
Defensive end Will Clarke and running back Charles Sims were 2014 draft picks, though only Clarke was inherited by Holgorsen, who got Sims to transfer from Houston for his final college season in 2013.
Two other players Holgorsen inherited over his first three seasons went on to play in the NFL. Offensive lineman Don Barclay and safety/linebacker Terence Garvin both carved out careers as undrafted free agents starting in 2012 and 2013, respectively.
** Assistance provided by Joel Bracken