CHARLESTON, W.Va. — Gov. Jim Justice is feeling better.
"He wants everybody to know that the antibodies really kicked in. He says he feels 100% better than he did yesterday (Wednesday) and he wants to get back in the saddle real soon," Justice administration Chief of Staff Brian Abraham said Thursday on MetroNews "Talkline."
The governor's office released a statement from Gov. Justice later Thursday.
"Thankfully, I am feeling much better today," Gov. Justice said. "I desperately want to get out of this house and back to serving our state. I am not one to lay around.
"I deeply appreciate everyone's prayers and well-wishes for my family and I this week. They mean more to Cathy and I than words can convey, and we will never forget them."
Justice tested positive for covid Tuesday. He was treated with monoclonal antibodies. He's receiving treatment at his private residence in Lewisburg.
"The thing that he really wants to stress is that if he hadn't had the vaccinations he thinks this would have been a far different outcome," Abraham said.
Justice was described Wednesday as having moderate symptoms. Abraham said Justice had a fever, was aching and was very congested. He said he was better when he spoke to him Thursday morning but still sick. Abraham said.
"You can tell he's tired," Abraham said, adding Justice wants to get back to Charleston.
What is the status of Governor Justice following his positive COVID-19 test? Brian Abraham, Governor Justice's Chief of Staff, provides an update to @HoppyKercheval. WATCH: https://t.co/yCFQ3nm85Y pic.twitter.com/5nafaVkwYl

— MetroNews (@WVMetroNews) January 13, 2022
"His doctors have asked him still to take it a little easy but he's Jim Justice, he wants to be in the car and be back down here," Abraham said.
Justice was previously fully vaccinated and received a booster. Abraham said Thursday that Justice recently received a second booster.
Abraham, and the doctors treating him, believe his bout with covid could have been worse, Abraham said.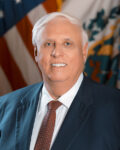 "He is a 100% believer if he had not been vaccinated and boosted that this could have been a significantly different outcome," Abraham said.
Justice confirmed that in Thursday's statement.
"Without question, the fact that I chose to get vaccinated and boosted saved my life, that's all there is to it. So, now more than ever, I strongly encourage all West Virginians to protect themselves and their families by getting vaccinated," Justice said.
Abraham said the well-wishes the governor's office have received since news broke of Justice's illness have been overwhelming. He said it's ranged from regular West Virginians to former Vice President Mike Pence.
Justice's wife Kathy has tested negative for covid.
House of Delegates Speaker Roger Hanshaw wasn't feeling well and didn't come to the capitol Thursday. House Majority Leader Amy Summers reported Hanshaw had taken a rapid covid test and it was negative. House Communications Director Ann Ali had previously told MetroNews Hanshaw "has not been in contact with Gov. Justice within the window of a required quarantine."
All House members will be given rapid test kits to use during the upcoming weekend.
Senate Majority Leader Tom Takubo, R-Kanawha, currently has covid but is reportedly feeling better.