WHEELING, W.Va. — United States Attorney William Ihlenfeld said when he previously served in his current role from 2010-2016 he knew healthcare fraud was an issue, but after his time in the private sector the last couple of years, the time has really shed light on what was happening.
Ihlenfeld, who was named United States Attorney for the Northern District of West Virginia in 2021 after serving in the West Virginia Senate, launched a new initiative to combat health care fraud in the state this week.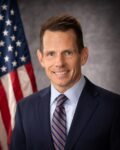 State and federal agencies gathered at the U.S. Attorney's office in Wheeling for the first meeting of the Mountaineer Health Care Fraud Strike Force, a unit that will take a data-driven approach to uncovering waste and abuse. Representatives from seven different agencies discussed fraudulent billing patterns and new targets were identified as a result.
"I realized it was even greater in scope than I had realized previously," Ihlenfeld told MetroNews about being in the private sector. "I know the U.S. Attorney's office needed to do more to combat this problem."
In addition to its analytical work, the Strike Force will engage with providers and insurers so that there is a better understanding on how to recognize and report health care fraud, a release said.
"To make sure that we're on the same page and if they see something that they suspect is fraudulent and violates federal criminal law or federal civil law, that they are contacting us. Allowing us to help them with the investigation and possibly with the prosecution," Ihlenfeld said.
Ihlenfeld also stressed to MetroNews the importance of contact with whistleblowers and the impact that they can have upon uncovering fraud. He said whistleblowers have opportunities to report fraud and could also receive money from what is recovered in the case.
According to his office, last year, a whistleblower was awarded $10 million in the matter of U.S. ex rel. Longo v. Wheeling Hospital, Inc.
A new hotline, email address and mailing address have been established to allow for the reporting of potential fraud. Anyone with information may call (304) 234-7711, send an email to wvfraud@fbi.gov, or mail correspondence to the U.S. Attorney's Office, Attn: Mountaineer HCF Strike Force, P.O. Box 591, Wheeling, WV 26003.
Members of the Mountaineer Health Care Fraud Strike Force include agents, officers and prosecutors from the Federal Bureau of Investigation, the U.S. Department of Health and Human Resources, the Drug Enforcement Administration, the U.S. Department of Defense, the West Virginia Medicaid Fraud Control Unit, the West Virginia Offices of Insurance Commission, and the United States Attorney's Office.
Ihlenfeld said cracking down on healthcare fraud will impact all West Virginians.
"All West Virginians pay the price in the form of higher insurance rates. Anyone that has insurance withheld from their paycheck every month to pay their premium, they don't like that. No one likes to see that coming out of their paycheck," he said.