SUTTON, W.Va. — A mother, young child and a Gassaway volunteer firefighter all drowned in the Elk River near Sutton Sunday afternoon following a car crash.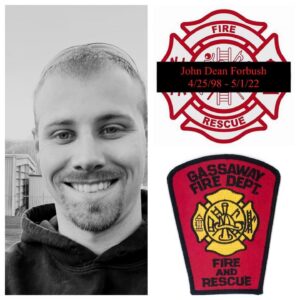 According to the Braxton County Sheriff's Department, a woman lost control of her vehicle at about 2:30 p.m. in the parking lot near the Braxton County Senior Center not far from the I-79 Sutton exit. The vehicle went into the Elk River.
First responders arrived on the scene and several firefighters and police officers went into the river in an attempt to rescue the woman and her young daughter who were trapped in the vehicle.
The mother was recovered first. She was pronounced dead at the scene. Gassaway VFD firefighter John Dean Forbush, 24, tried to save the child. They both died.
There was no early word on what may have caused the crash. It was not raining at the time, authorities said.
The names of those involved were not immediately released but various posts on social media identified Forbush as the firefighter who died.
A Facebook post said, "Please remember his family, as well as the Gassaway Volunteer Fire Department, the Braxton fire service family and Gassaway community in your thoughts and payers!
"John 15:13- Greater love hath no man than this, that a man lay down his life for his friends.
"Rest easy Brother, we'll take it from here…"
Braxton County OES Director John Hoffman said the loss of life including that of a first responder is difficult to describe.
"It's not something easy to articulate and it takes a while to overcome that," Hoffman told MetroNews. "I think you'll see in the days to come there will be some impact from the fire departments themselves in the loss of their fellow firefighter."
The Braxton County Sheriff's Department is leading the investigation assisted by state police.