MORGANTOWN, W.Va. — A group of West Virginia University students will begin a fentanyl education campaign for fellow students.
As more counterfeit prescription drugs containing the substance cause poisoning deaths the students felt they had to act, according to Mountaineer Fentanyl Education Task Force (MFETF) Chairman Azeem Khan.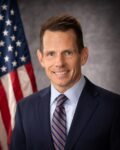 "Just this May at Ohio State University, two students tragically died from fentanyl poisoning," Khan said at a Wednesday media event announcing the campaign. "We cannot, and we will not wait for a tragedy like that in Morgantown."
U.S. District Attorney for Northern West Virginia Bill Ihlenfeld said large quantities of fentanyl are being confiscated on a regular basis throughout the region. Earlier this year a Thornville, Ohio man was arrested in Wheeling with more than a half-pound of fentanyl powder, counterfeit Xanax pills containing fentanyl rather than traditional benzodiazepines like alprazolam and clonazepam, a portable pill press with a hydraulic jack and a pistol. The arrest spotlights the depth of the growing problem.
Dealers with that type of equipment are capable of producing counterfeit drugs that look exactly like the prescription brand drug.
"It continues to be a major challenge and the greatest challenge that I've seen in my nearly quarter-century in law enforcement," Ihlenfeld said.
Ihlenfeld said the drug is manufactured in Mexico with ingredients from China and production is limitless. Further, there are no controls or testing during production and when it gets to the street level, Ihlenfeld said there are even fewer controls if any.
WVU student Matthew Hudson, a senior from Teays Valley, said he wants to make sure his fellow students understand the severity of the situation. He said making people aware through education rather than a tragedy is the goal.
"Doing what we can to make sure our fellow Mountaineers are educated on this topic and hopefully we'll save some lives," Hudson said.
Ihlenfeld referred to the students as ambassadors, acknowledging the students are the best messengers as long as they have accurate information.
"Prevention is our greatest weapon and our greatest resource in the fight are our young people- I've been saying that as long as anyone will listen," Ihlenfeld said.
The Task Force will work closely with Ihlenfeld, WVU and Morgantown community partners. The students plan to use email and social media to reach as many as 15,000 students and 7,500 parents on a regular basis to explain the dangers of the drug.
Michael Cole, founder of Lauren's Wish, is also supporting the student group. Lauren was Cole's daughter who died from fentanyl poisoning in July of 2020.
"We're not going to be able to stop children and young adults from experimenting," Cole said. "But, they shouldn't die from a mistake, they should learn from it and in today's world they're dying from it."