MORGANTOWN, W.Va. – Monongalia County Deputy Lance Kuretza had no reason to enter a hotel room on January 20, 2018 where Quintin Graciano was sound asleep, according to Graciano's attorney.
 According to attorney Todd La Neve, the ugly incident that resulted in a civil lawsuit and a federal criminal indictment against Monongalia County Deputy Lance Kuretza was totally avoidable.
"He immediately demanded access to this room that was not part of the complaint call, where no activity had gone and had no legitimate reason under the fourth amendment to enter," said La Neve in an interview on WAJR's Talk of the Town Tuesday.
Listen to "Talk of the Town | September 6, 2022" on Spreaker.
LaNeve represented Gracanio in a civil lawsuit that was filed against the Monongalia County deputy in January 2020 and settled in January 2021.   
In August, Kuretza was indicted by a federal grand jury for allegedly depriving Graciano of his civil rights by using excessive force and writing a false report to cover it up.  
U.S. Attorney for Northern West Virginia said during an Aug. 22 interview on MetroNews "Talkline" that body cam evidence is key in the case.
"The video really speaks for itself, there's a lot of it and that's why body cams are so important and we have a lot of it in this case," Ihlenfeld said.
Kuretza is currently on administrative leave.
Arrest came after a game
Graciano was in Morgantown that night in January 2018, attending a West Virginia University basketball game with a group of friends. After the game, the group went out and eventually Graciano was helped back to his hotel room where he passed out on the bed.
Police got involved later that night after a disturbance was reported at a Residence Inn in Morgantown. La Neve said 911 records indicated there was a complaint regarding one specific hotel room where Graciano's friends had become rowdy and disturbed other guests in the hotel. 
"Only a single room number had been identified by the caller and it was not the room Quintin was in. It was the other room where the seven guys were behaving in a rowdy," La Neve explained.  
Kuretza and six other deputies, who have not been identified, responded to the disturbance call. La Neve described the Kurteza and the deputies as "overly assertive" in their interactions with the group of rowdy friends. He said the deputies informed group they were being kicked out of the hotel, then Kuretza demanded to know if there was anyone else with them. Once Kuretza learned Graciano was asleep in a separate room, he demanded to be let inside.  
 "That begs the question why was there entry into a room that was not part of the initial complaint that did not in any way give rise to suspicion of criminal activity while deputies were on the scene dealing with the other guests?" question La Neve.   
According to LaNeve, there was no legitimate reason for Kuretza or the other officers to enter Graciano's room. Once inside, the situation quickly escalated. After several attempts to wake him, Graciano abruptly sat up in the bed, which deputies apparently took as a threat.  
"Kuretza leads the charge beating on him. There's punching, there's kicking, there's knees and all the officers who entered the room join in on this thinking they need to subdue this guy," said La Neve.  
LaNeve insisted once Graciano figured out he was dealing with police officers, he was compliant but the insulting, demeaning, berating behavior continued. Graciano was pepper-sprayed while he was in handcuffs and LaNeve said Graciano was given one last warning by Kuretza while being booked.  
"At the point Kuretza finally decided he's going to take of the cuffs off Quintin, he gets him against the wall and gets in his face and says 'Let me tell you something, what you saw back there was me being calm, you want to see me lose my s—, try something when I take these cuffs off.' Then he launches into a profanity-laced tirade about what he will do if Quintin acts up," recalled La Neve.  
Graciano was eventually released and made it home where his wife insisted he seek medical attention for his injuries, which included a broken eye socket.  
After reviewing the case, the Monongalia County Prosecutor dropped all the charges that were filed against Graciano.   
La Neve, who has practiced law for nearly three decades, described the incident as one of the worst examples of treatment of someone in police custody he has ever seen.  
"This guy's a bully and that's my opinion on it. It was just disgusting is the only way I can describe it." 
Federal criminal case continues
Kuretza pleaded not guilty during his arraignment earlier this month. A status conference is scheduled in the case for Sept. 28.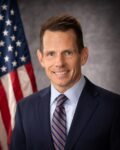 Ilhenfeld said during the "Talkline" interview that these types of cases are very difficult and time consuming. He said the physical and video evidence must be carefully compared with interviews from witnesses and suspects to accurately piece together what happened.
"The Monongalia County Sheriff's Department has been very cooperative throughout this process. Once we saw the evidence and interviewed the witnesses we knew this case had to be charged," Ihlenfeld said.