Update 11 a.m. Monday  WVU confirms departure in a news release.
WVU President Gordon Gee on Lyons:
"I deeply appreciate Shane's leadership over the past eight years and I wish him well," Gee said. "But with the ever-changing landscape of intercollegiate athletics, I believe this is an opportunity to bring a fresh perspective to our program."
Gee on naming Vice President Rob Alsop as interim AD:
"I am confident that Rob will lead and assist our coaches, student-athletes and staff during this turning point," Gee said. "I also know that he will lay the pathways necessary for a new athletic director to make a seamless transition into the role."
WVU has announced it has hired the search firm Turnkey ZRG to help it hire a new AD in the next 3 to 4 weeks.
Gee on WVU football coach Neal Brown:
"We are supporting Coach Neal Brown and our team as we complete our season over the next few weeks," Gee said. "We are aware there are some deficiencies, but we have not given up on the coach and the team, and they have not given up on each other. The evaluation of the football program will be the first task of our new athletic director and no changes will be made until that review has been completed."
Alsop is scheduled to meet with reporters at 1 p.m. Monday.
Original report 8:59 a.m. Monday West Virginia University Director of Athletics and Associate Vice President Shane Lyons is resigning under pressure from the University.  Lyons informed his staff of the decision this morning following a tense meeting Sunday with WVU President E. Gordon Gee.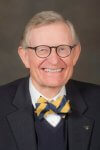 The move represents a significant change of direction for WVU Athletics as the fate of football coach Neal Brown is also under consideration and as the University adapts to a rapidly-changing athletics landscape. Lyons turned down an offer by Gee to give up the Athletics Director responsibilities, but stay on as Associate Vice President.
The hiring of Lyons in 2015 was viewed as a natural fit at the time.  Lyons is a Parkersburg native and a WVU graduate who had worked his way up in collegiate athletics.  His background was largely in compliance and conference administration.
That skill set served him well at WVU initially.  However, college athletics have changed dramatically with name, image and likeness and liberalized transfer rules. Top WVU officials were concerned that Lyons was not the person best equipped to manage the changing landscape and put WVU sports teams in the best position for long-term success.
Lyons has been heavily involved in boards and committees outside of the University, including his role as chair of the NCAA Division 1 Football Oversight Committee.  Those responsibilities have raised Lyons stature, but there was also a belief among some at WVU that he should have been spending more time in the day-to-day management of WVU athletics rather than delegating responsibilities.
There were also concerns about the administration of the Mountaineer Athletic Club, the fundraising arm of the athletic department.  There has been a series of departures of top officials at the MAC, including executive director Ben Murray, who left last year to take a similar position at the University of Nebraska.
The status of football coach Neal Brown has also been swirling about WVU athletics.  Lyons hired Brown — a move supported by WVU President Gordon Gee.  However, Brown's record is only 21-24 over four seasons.
Top university officials also signed off on Brown's contract extension in 2021, following Lyon's recommendation. That contract guarantees full payment of the remaining amount on the six-year deal to Brown even if he is fired.  That means WVU is on the hook for at least $16 million if Brown is let go at or before the end of the season.
WVU officials are expected to wait until the end of the season to fully evaluate Brown's status, and if Brown is fired, the university wants a new athletic director to hire the replacement.
The university will conduct a nationwide search for a new athletic director.  WVU VP for Strategic Initiatives Rob Alsop is expected to serve as interim AD.
WVU made no immediate comment but was expected to issue a formal release later today. There was also no immediate comment from Lyons.