Story by David Beard, The Dominion Post 
CHARLESTON, W.Va. — The state Senate sailed through a series of bills on Monday, passing them all unanimously with no debate – including a school protection bill and one to put a framed copy of the U.S. motto in every government building.
All bills head to the House of Delegates.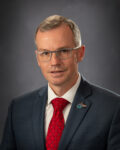 SB 282 creates the West Virginia Guardian program. It allows a county school board to engage specified individuals as independent contractors to provide public safety and security on school grounds: honorably discharged veterans, retired sheriff's deputies and state troopers, and certain retired federal law enforcement officers.
The contractor must have a valid concealed carry permit and may carry on campus. But the contractor would not be considered law enforcement and could not make arrests.
The contractor would have to take the Law Enforcement Professional Standards Program at the State Police Academy and undergo screenings: a physical examination, vision examination, a psychiatric examination and a pre-employment drug screen. The contractor must cover the training and screening expenses.
County board participation is voluntary and subject to the availability of county funds. Any county board that opts to participate would do so at its own expense.
Finance chair Eric Tarr, R-Putnam and lead sponsor, said the idea of the bill was brought to him by two special forces veterans who wanted to construct a program to allow people trained in weapons, and in running toward a gun when others are are running away, to be on site when a gun threat arose.
He stressed that the bill is permissive. And people look at schools when considering relocating. "We have an opportunity here." It could start a national wave.
The House of Delegates has a very different bill, HB 2549, which would allow K-12 teachers, administrators and school staff to volunteer as School Protection Officers after receiving training. That bill cleared House Education last week and is in Judiciary, where it died the previous two years.
Motto bill
SB 251 requires a public elementary or secondary school or a public institution of higher education to "display in a conspicuous place in each building of the school or institution a durable poster or framed copy of the United States national motto, 'In God We Trust.' "
While it says they "must" display a copy it also says they can't just go out and buy one with taxpayer money. The poster or copy must be donated or purchased with private funds.
It must contain a representation of the U.S. flag centered under the motto and a representation of the state flag. It may not contain any other words or images.
Lead sponsor Sen. Mike Azinger, R-Wood, said, "Why is this a big deal? I think this is a very big deal."
The motto was adopted under President Eisenhower, he said. "It was adopted during a time of disunity in America. … I think that's is where we are in America in many ways."
There are 4 million of these sent out across the country, he said. Having the motto on display offers something for every child to look up to if maybe they are having a bad day or going through hard times at home.
School impact bill
SB 51 would require a school board to produce an impact statement before any school closure or consolidation, except in cases where county voters have already approved a bond issue that includes the schools in question.
The statement would have to be available for public inspection for 30 days before a public hearing on the proposed actions.
The statement would have to include the impact on students, including transportation times; the financial health of the county and the potential savings of the actions; the enrollment of the schools set to receive the students; school personnel, including layoffs; and on the community. School boards would have to give substantial weight to the impact statement.
This bill passed the Senate last year, saw an amendment in House Education but died in House Finance. So this version includes the House amendment, with an additional amendment
Substance abuse transportation bill
SB 243 requires residential substance use disorder service facilities, upon discharging patients, to offer those patients a means of transportation back to their state of birth, a state in which they have previously lived, or a state where they have a family support structure.