WHEELING, W.Va. — The third time was the charm for Glenville State. 
Although the Pioneers had reached the Mountain East Conference Tournament title game five straight seasons, the University of Charleston had its number by claiming the last two.
On Sunday, Glanville State had its way with the Golden Eagles and recorded its a 76-59 victory for its 29th win this season and first league championship since 2020.
"This team has worked hard since they got here, and we had 15 or 16 new people added to our roster," said Glenville State head coach Kim Stephens. "They didn't know each other and came in and worked hard. They didn't like it, but they did it anyway. They continued to do it over and over and over again. They deserved this today. Charleston's a great team. I'm not taking anything away from them, but our team deserves this because they bought in and worked hard."
Glenville will host the Atlantic Regional Tournament next weekend. The Pioneers will face No. 8 seed Elizabeth City State (20-10) in the quarterfinals. West Virginia State (22-6) is the No. 5 seed. Charleston (23-8) earned the No. 7 seed.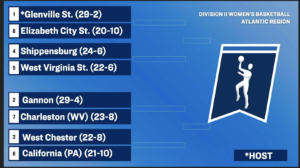 The defending Division II National Champion lost 95 percent of its point production from last season's team. While it's been a challenging road, Stephens' confidence remained steady through a gauntlet of a schedule.
"This [game] is up there," Stephens stated. "We do have a lot of championships, and we are blessed. God has been good to us. We always want to give Him glory. This one is special and hard. I'm not saying the others were easy, but not only do you bring in 15 or 16 new people that do not know anything. We had so many injuries, and I do not think I have dealt with this many injuries and lineups. It shows what our team is about. I work these players hard. That way, they can have this moment."
Veteran UC guard Trinity Palacio and Markyia McCormick were the driving force early for the Golden Eagles as they combined for eight of UC's first 13 points, including back-to-back baskets from Palacio in a 1:34.
Glenville State cut its deficit to one at 13-12 following a layup by Hya Haywood for two of her six first-quarter points with 3:15 remaining. That would serve as the Pioneers' last field goal, and Charleston would capitalize by finishing the quarter on a 7-0 run.
"We handled the press and got the ball inbounds," said the Golden Eagles head coach Tianni Kelly. "We attacked the rim and got to the basket. When we were able to break the press and settled into what we wanted to do, which helped us a lot."
The Golden Eagles stretched their lead out to 28-16 early in the second quarter following a three-pointer by senior Dakota Reeves with 6:40 left.
GSU started clawing back into the game by scoring five straight points, but the Pioneers' leading scorer Breanna Campbell picked up her third foul, causing her to sit the remainder of the quarter.
While Campbell was out, Toledo transfer Mickayla Perdue scored nine consecutive points for the Pioneers, including a triple with 3:03 remaining to tie the game at 30. However, GSU went into the half trailing, 34-32.
"I think everybody stepped up and played a big role today," Perdue said. "Our coaches told us to let it come to us and not force it. They were not worried. As a player, that's showing me my coaches are not worried, so I'm not worried."
Both teams would trade baskets through the first 3:50, and the game was tied at 41.
But Glenville State scored 15 of the following 17 points as six players contributed during that stretch, which gave the Pioneers a 13 point-lead, 56-43, with 1:56 remaining in the quarter.
GSU maintained that lead heading into the final quarter at 60-47.
"I was proud of the adjustments we made at halftime and trusted one another," Stephens added. "You cannot win championships with two or three people. It has to take a whole team. We had a lot of people step up and hit big shots."
The Golden Eagles used a 9-0 run midway through the fourth quarter to cut the deficit to nine, 65-56. However, to close the game, the Pioneers would score 11 of the final 14 points, including free throws from Cabria Lewis, Alexis Maynard, Perdue, and Campbell.
This last year was memorable for Stephens and the Glenville State program. She knows the job is not done but is soaking in as much as possible.
"It has been fun," Stephens said. "I love my staff, and they are fun to be around. When I lost my dad in 2020, I went through some years where it was not fun to go to work. You had last year, and that was amazing. It was fun and great, but the pressure was unreal. This year was just fun. I love being around this team, and they work hard every day. Not only are they fun to be around on the court, but they're fun to be around off the court. I enjoy coming to practice to see them. I'm so proud of them. They deserve this."
Perdue and Campbell combined for 39 of the Pioneers 76 points, and Perdue led all scorers with 22 points.
McCormick led UC with 17 points, shooting 44 percent.
It was the fifth time Glenville State has won the MEC regular season and tournament titles.