On Day 59 of the 60-day session, the Senate went off the rockers as Robert Karnes, a Republican from Randolph County, protested about persistent process issues, repeatedly shouted "Mr. President!" and demanded that bills up for passage be read in their entirety — just before he was escorted out of the chamber.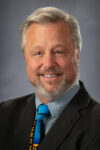 "I was accused of being disorderly because I was demanding, as is required by the West Virginia Constitution that bills be fully and distinctly read," Karnes said from just outside the chamber while leaning on a wooden handrail.
"And so the Senate president, rather than follow the West Virginia Constitution, as we saw, was refusing to read the bills. And so I was making the point obviously very strongly that that needed to be done."
Karnes had provided warning of what he was about to do. He sent a letter to Senate leaders protesting whether the content of bills as they've left committee has accurately reflected the way they appear on the floor, along with sometimes short notice on amendments and bills to be considered.
So in the letter with today's date, Karnes said he would be demanding that bills be read. That is a tactic that lawmakers sometimes use in protest, bogging down the flow of the session and often resulting in frustration by their colleagues. A similar situation unfolded in the House of Delegates today.
Early in the morning's Senate floor session, with 52 bills up for passage, Karnes rose repeatedly and shouted, "Mr. President!" demanding that bills be read in full.
If this outburst from Sen. Karnes (one of several within the first few minutes of today's floor session) is any indicator of how the rest of the day is going to go here at the West Virginia Capitol….. It's going to be a very long day pic.twitter.com/bP5MMe31gn

— Leah M. Willingham (@LeahMWillingham) March 10, 2023
Still, Senate President Craig Blair, R-Berkeley, persisted. He declared Karnes out of order.
Procedurally, when the disruption began, the Senate was receiving messages from the House and determining whether to concur on changes to bill for final passage.
Karnes was citing a constitutional requirement applying to all engrossed bills or bills being passed on third reading.
It's a distinction that led to Blair's call that Karnes was out of order.
Karnes notes that he sat down and let all the bills being received from the House pass before resuming. He started again once bills were up for passage votes.
The Senate's archived video shows that as the Senate moved its first bill toward passage this morning, SB 3109, supplementing and amending appropriations to the state Board of Education, Karnes stood and said, "I demand according to West Virginia Constitution, Article 6, Section 29 that this bill be read a third time, distinctly and fully."
In that moment, Blair called the Karnes motion out of order. The Senate had actually taken a vote on that bill to suspend constitutional rules that normally require a bill to be read three consecutive times.
Senate Majority Whip Ryan Weld, R-Brooke, rose and cited Rule 8 of the Senate rule book to note that the power of recognition lies with the presiding officer, in other words, Blair.
So, after that, Blair ignored Karnes.
Karnes continued his protest on the next few bills, including HB 3542, Expiring Funds to the Department of Administration, Board of Risk and Insurance Management.
Blair said his call was correct.
"My perspective was the senator from Randolph was trying to make motions that were out of order, and he continued to make them even though he was told that," Blair said during a recess.
"He sent me a letter earlier today that he was going to request to have the bills read, the engrossed bills, entirely and distinctly. I was aware of that. That's not what we were doing. We were taking the messages up, and the bills had already been read. If he doesn't know the rules any better than that, it's not my problem. So he was trying to exercise one rule over top of another, and it did not work."
Senate Minority Leader Mike Woelfel, D-Cabell, agreed that the Senate's process was correct.
"I believe the procedures were followed, that the Senate rules were adhered to and implemented," Woelfel said. "I believe the proper process occurred based on the Senate rules."
The Senate took a break from all the mayhem by calling a recess. Senate Judiciary Chairman Charles Trump, R-Morgan, a consistent voice of calm, went outside the chamber to talk with Karnes.
After the floor session resumed, long-tenured Senator Donna Boley stood and requested that Karnes be escorted out for the disruption. He walked calmly out the back door.
From outside the chamber, he watched as votes by the other senators lit up a board. He didn't know any more than anybody else how long he would be outside.
"I have no idea," he said. "So on Day 59, today, tomorrow, there's not a lot of room."
Karnes added, "We'll see."
here is properly rotated video of being escorted out pic.twitter.com/5YlaEMjHXw

— Brad McElhinny (@BradMcElhinny) March 10, 2023