Monongalia County Commission President Tom Bloom says panhandling in his county has gotten out of control. "The problem has gone past a serious concern; it's now an epidemic," he said on Talkline Monday.
Bloom is talking about the panhandling at busy intersections and in downtown Morgantown. "You have innocent people being harassed, and the government has a responsibility to protect individuals from unwanted and aggressive behavior."
Bloom wants to coordinate with Morgantown and WVU to create a comprehensive solution to the problem. "We have to have the same law so we can enforce it correctly… so the city, the county and WVU are enforcing it in the same way."
That is not going to be easy.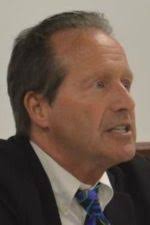 Laws and ordinances restricting panhandling must clear a high constitutional bar. The courts have generally viewed asking for money as a free speech exercise protected by the First Amendment. When the prohibition is content based—in this case panhandling—ordinances face even greater scrutiny.
Just last month, a federal judge struck down an Alabama law against begging and pedestrian solicitation.   Judge W. Keith Watkins found that the law violated the First Amendment rights of the individuals asking for money.
Advocates for the homeless contend anti-panhandling laws are not only unconstitutional, but they punish the poor. The National Homeless Law Center argues panhandling has increased over 40 percent in the last decade because more people "are finding themselves unable to meet their basic needs due to falling wages and rising rents."
The best argument for a government entity trying to restrict panhandling is to convince the court that it has a compelling interest in protecting the public and ensuring public safety. For example, an ordinance against aggressive panhandling or solicitations that cause traffic dangers might have a better chance of success.
And it is at those busy intersections where Bloom wants to begin. He maintains that some panhandlers who position themselves on concrete lane dividers are becoming a hazard. "We're now getting complaints that they are taking their signs and putting them right on the windshield or putting it right against the window," Bloom said. "That is the first area we can control because it's a safety issue."
Bloom is getting angry pushback. He sent me a text from a constituent. It read, "You are going to f— people over and not offer anything to improve their lives. So (this is) not only dumb as s—, but also callous as f—."
Bloom's defense is that he has a record of supporting services for those in need in his county. However, he also believes there is an important distinction between helping and enabling.
"Monongalia County is known for providing compassion to so many in need–hot meals, accommodations, harm reduction, medical services, mental health resources. Our county gives $1.1 million dollars to non-profits to help these individuals," said Bloom, who identifies himself as a liberal Democrat. "But the services are designed to help lift people, not create a cycle of behavior that is detrimental to the community."