CHARLESTON, W.Va. — Longtime Kanawha County Commission President Kent Carper had open heart surgery Thursday.
His family said he underwent quadruple bypass surgery at CAMC Memorial in Charleston.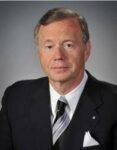 "According to his doctors, the surgery went well, and he is in recovery," Carper's family said in a statement released Thursday evening. "He is receiving excellent care from CAMC. We ask that you respect his privacy and our privacy at this time as he continues to recover."
Carper's fellow commissioners, Ben Salango and Lance Wheeler also released statements.
"I'm relieved to hear that my friend and colleague, Commission President Carper, is recovering from a successful open-heart surgery," Salango said. "My sincerest thanks to the medical teams at Thomas Memorial Hospital and Charleston Area Medical Center for taking care of him."
Wheeler said his thoughts are with Carper's family.
"I have been told Commissioner Carper is doing well, and his surgery was a success. All of the Kanawha County elected officials and staff will continue to wish him the best during his speedy recovery."
Carper did not attend Tuesday's county commission meeting.
Carper had kidney transplant surgery in 2019.
"I'm so grateful to my physician, the excellent care I received, and to my youngest daughter, Virginia," Carper said in an appearance on MetroNews "Talkline" in April 2019. "She donated her kidney to me."
Virginia told MetroNews the decision for her was easy, the decision for her dad was much harder.
"We had a family discussion and I decided right then I would start the process of testing to be a living donor," Virginia explained. "My dad is pretty hard headed and was 100 percent against me doing that. I'm just like my dad and I'm really hard headed and I was 100 percent going to do it."
Carper has a been a member of the Kanawha County Commission for more than 25 years.