CHARLESTON, W.Va. — Several members of the House of Delegates are backing a bill that would reverse the new high school transfer law that's impacting high school sports in West Virginia.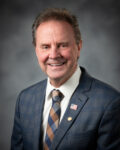 Del. Dana Ferrell, R-Kanawha, and several other members of the House announced their support of the bill, The High School Sports Integrity Act, at a Tuesday afternoon news conference at the state capitol.
Ferrell said the current situation needs reversed.
"We need to go back to the way we were," Ferrell told MetroNews.
The new law allows student-athletes the opportunity to change schools one time during their high school career without having to change residency. Under the previous rules from the WVSSAC, a student would have to sit out a year of competition if they elected to transfer unless they received a waiver.
Gov. Jim Justice, who allowed the bill to become law without his signature, has taken advantage of several opportunities in recent weeks to criticize the law.
"We've got to revisit this because all we are going to end up doing is have five or seven or whatever super-teams in the state," Justice said last week. "And we are going to destroy high school sports all across this state if we don't watch out what we are doing. It is a bad move. I don't know any other way to say it. We should not have done this. Now we have to live with it. We need to revisit and come up with a better solution to what we've got."
MORE Commentary: Blowouts and transfers are nothing new in the high school sports landscape
Ferrell said the bill passed the House after it was attached to a bill that would allow Hope Scholarship students to play sports. He said the bill, which would introduced by Brooke County Senator Ryan Weld, was having problems getting through on its own.
Ferrell said he's been told by state officials that transfers have increased by 10-fold in recent months. He said he expects to get some real numbers in the coming days.
The change doesn't have widespread support, according to Ferrell.
"At least on my timelines it's about 95 to 5," he said last week during an appearance on WCHS Radio's 580 Live.
Ferrell said losing students under a more liberal transfer rule hits home.
"Those schools are the cornerstones, the centerpiece of that community, they are microcosms, they reflect whose those communities are and vice-versa and people take it seriously," Ferrell said.
Ferrell was hoping for a special session by the end of the year to deal with the bill but the House of Delegates Chamber is out of commission for a major renovation project. He said the bill could be the fast track in January. He said those in support of the reversal would need to get support in the Senate. Ferrell said lawmakers will be hearing from their constituents.
"We've got a problem and I want to caution my fellow representatives that you need to get on board or it's going to be a problem," Ferrell said. "This is a political albatross."