WHARTON, W.Va. — In the coal community of Clinton Camp, not many are in Clinton's camp.
"Nobody likes Hillary around here," said 77-year-old retired coal miner Darrell Bower, who was watering his lawn last week. "Everybody in my family and everyone I know is going to vote for Trump."
Millions of Americans are expected to tune in tonight to the first presidential debate between Democratic nominee Hillary Clinton and Republican nominee Donald Trump, the least-liked presidential candidates ever. 
In Clinton Camp, an unincorporated area of Wharton where the homes were constructed as a coal camp in the late 1940s, not much indecision over the presidential race remains, if it ever existed.
As with the majority of West Virginians, the pick here in this struggling coal community is Trump.
West Virginia was dominated by Democratic politics for much of its history, but has voted for Republican presidential candidates every cycle since 2000. The last Democrat to win West Virginia's presidential vote was a Clinton — Bill — in 1992 and 1996.
(Stunning in retrospect? West Virginia voted for Michael Dukakis in 1988.)
Bower described himself as a union man and a former employee of Peabody and Eastern Associated coal mines whose father told him to never vote for a Republican.
"But I'm going to vote for Trump," Bower said. "You'll find out more people here want to vote for Trump."
Bower said he takes Trump at his word that he'll make changes.
He believes Trump will remove the federal government's regulatory pressure on the coal industry. He's also disturbed by the number of jobless young men in his neighborhood. And he'd watched the protests in Charlotte on television news the prior night and is worried about what he sees as a deteriorating national culture.
"I'm 77, and I've never seen the country in such shape," he said. "It's pitiful the way people's acting."
Jerry and Norma Kinder have lived in Clinton Camp since 1971. He made a career in area coal mines, most of which have now shut down. The Kinders are in agreement and can finish each other's sentences.
"We've voted Democrat all my life, and this year…" Jerry began.
"We're voting Republican," Norma finished.
It's not exactly as simple as that. Jerry Kinder says he's not wild about either candidate. He sees Clinton with a longstanding record of dishonesty in public life. He sees Trump as a loose cannon.
"Out of all the millions of people, look who we have to run for president," he said. "People don't know what to vote for or who to vote for."
He continued, "We don't know what Trump is, but we know what Hillary has done."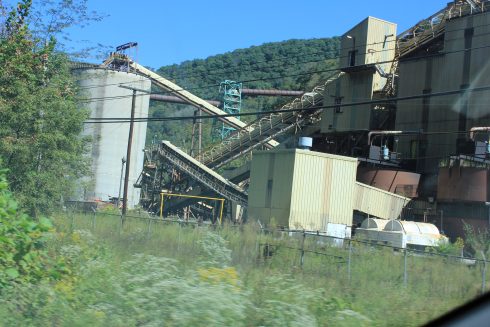 Top of mind for the Kinders and their neighbors in Clinton Camp is a remark Clinton made to CNN in March: "We're going to put a lot of coal miners and coal companies out of business."
Clinton made the remark in the context of creating clean energy jobs in areas of the country, like Clinton Camp, that traditionally have depended on coal.
Boone County's mining employment was relatively steady until 2011 when it was 3,592, according to WorkForce West Virginia. Then coal employment began declining every year after. It was at 1,278 in 2015.
Total coal-related wages in Boone County sagged from $301,089,487 in 2011 to $101,089,487 in 2015.
"What hurt Hillary was a few things she said about coal mines," said Clinton Camp resident Lynn Bryant, 37.
"I've always been a Democrat too — my whole family. Our schools are shut down and everything else. There won't be anything for our children. There's not."
When Clinton visited West Virginia last spring, she apologized for her widely-criticized comment and tried to explain.
"I don't know how to explain it other than what I said was totally out of context for what I meant because I have been talking about helping coal country for a very long time," Clinton said. "It was a misstatement because what I was saying is the way things are going now, they will continue to lose jobs. It didn't mean that we were going to do it. What I said is that is going to happen unless we take action to help and prevent it."
One house in favor of Clinton in Clinton Camp belongs to 76-year-old Donald Dingess, who was on his porch reading the newspaper one bright morning last week. He said he is not about to vote for Trump.
"Hillary Clinton all the way," Dingess said. "Donald Trump is an idiot."
Dingess is a former employee of Bethlehem Coal. He said he's voted for one Republican in his life, a candidate for county sheriff. Dingess is saddened by the loss of mining jobs in the area, but also believes in the validity of climate change.
He says Clinton outqualifies Trump on basics like government experience and know-how.
"He has no government experience," Dingess said. "He's an overbearing millionaire."
One example of Trump's lack of judgment, Dingess said, was apparent early.
"He started out downing women. A guy who doesn't have the sense to know women are 60 percent of the population is an idiot. I just don't think Trump is qualified in any way, shape or form."
Most West Virginians say they're going to vote for Trump — 49 percent, according to the latest MetroNews West Virginia Poll released at the beginning of this month by Repass Research.
Clinton got 31 percent, according to the poll. Libertarian Gary Johnson, who residents of Clinton Camp rarely mentioned as an option, tallied 10 percent. Conservative Evan McMullin, running as a Trump alternative, didn't even register in the poll.
One question is how many West Virginians will actually vote. West Virginia was last in the nation in voter turnout during the general election in 2012. Fewer than half of eligible West Virginians voted.
Few residents of Clinton Camp said they actually plan to watch tonight's debate. Some mentioned Monday Night Football as a more appealing option but suggested they might flip between the two events.
Retired coal miner Tim Ratliff, 54, said he changed his registration from Democrat to independent last spring "based on that the Democrats aren't what they used to be."
Ratliff is concerned about the state of the coal industry, 2nd Amendment rights and abortion issues. He says he isn't wild about either presidential candidate but has a Trump sign in his Clinton Camp yard.
"Too much mudslinging. Seems like that's what people want to hear but we need to hear issues," Ratliff said. "I'm not happy with either one of them. Out of the millions of people in this country, these are the two we picked."
But, he said, "As I stand right now, Trump's the better pick."