CHARLESTON, W.Va. — After a 90-minute debate in front of dozens of teachers and school service personnel, the House of Delegates passed a bill Thursday that supporters say will provide part of a permanent fix for health insurance costs for state workers.
A unanimous vote, 98-0, on the bill (HB 4625) sends the measure to the state Senate.
The bill, which was originated earlier this week in the House Finance Committee, commits 20 percent of any future state budget surplus to the Public Employees Insurance Agency. The allocation would run for 10 years.
More than 5,100 people were in the capitol Friday, most of them teachers and service personnel on day one of a planned two-day work stoppage. One of the things they've been most vocal about is the rising cost of PEIA. House Finance Committee Chairman Eric Nelson (R-Kanawha) called Thursday's vote "fiscally prudent" and a "huge step forward" to address those concerns.
"Is it a cure all? No, but by all means it's meant to show that we mean business in wanting to fix this issue that's been a problem for many years coming but we cannot fix this overnight," Nelson said promising a task force to work on the permanent fix.
Democrats voted for the bill but many took time to criticize it before they did.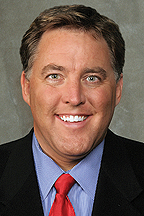 "We haven't found a dedicated funding stream. What we found is a potential funding stream if the state has good fortune. If the state doesn't have good fortune we're not going to make it," House Minority Leader Tim Miley (D-Harrison) said.
The PEIA Finance Board voted earlier this week to freeze the current year's insurance plan for the next 17 months. That means state workers won't face premium increases until July 2019.
Wayne County school bus driver David Thompson, who was at the capitol Thursday, said a one to two percent raise doesn't even cover increasing PEIA costs.
"That's just not enough," he said.
Nelson promised the state will do more in the future.
"We can do much more. We will do much more," he said.
The bill heads to the state Senate for consideration.
WV Legislative Photography, Photo by Perry Bennett