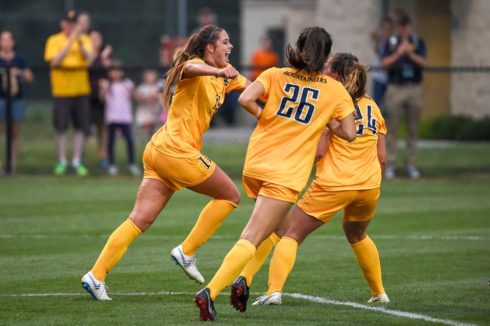 MORGANTOWN, W.Va. — Freshmen Addison Clark and Issy Sibley scored their first career goals and No. 17 West Virginia finally claimed its first win of the season, 3-0 over Xavier in women's soccer Thursday night.
Sophomore Lois Joel also broke through for a milestone goal in the final 8 minutes as the Mountaineers (1-1-3) more than doubled their season scoring output in front of 1,402 fans. The defense showed its muscle, too, denying the Musketeers (1-4) a shot on-goal.
"We've been grinding, and it's just so nice to see the hard work pay off," Mountaineers coach Nikki Izzo-Brown said. "The girls have been doing this for the last two weeks, but we hit everything but the back of the net."
Clark gave the Mountaineers a 1-0 lead in the 42nd minute, heading a cross from Lizzie Mayfield toward the right pocket.
"The game is about momentum, and for Lizzie to put that ball in, and for Addi to finish, was huge for our confidence and momentum going into the locker room," Izzo-Brown said.
Sibley doubled the lead in the 77th minute, scoring after Grace Cutler's low shot from 16 yards out ricocheted off a defender.
West Virginia finished with a 29-2 shot advantage as Rylee Foster earned credit for the 22nd shutout of her career.