COMMENTARY
MORGANTOWN, W.Va. — With two 100-yard receivers and another bushel of touchdown catches, you expected West Virginia assistant Tyron Carrier to emerge mostly satisfied with his unit's output from Week 1.
Then again, Carrier was born to nitpick.
"It's a tough world," he said.
Carrier remains notoriously strict with his postgame grades, spotting missteps and identifying technique glitches. He combs through film hawk-eyed and meticuloys, squashing excuses like mosquitos. Only a few years removed from actually playing the position himself, Carrier thinks he could be All-Big 12 if he had eligibility left, and thus, he pushes his guys toward lofty standards.
So I knew his answer even before asking him about two almost-touchdowns that transpired in the 40-14 walloping of Tennessee: That opening-drive David Sills incompletion in the back of the end zone, and the 40-yard bomb Marcus Simms lost on a rollover in the third quarter.
Each represented a tough chance amid lots of defensive traffic, but Carrier didn't hesitate: "Minus-10. Those counted as drops."
Let's tackle the plays separately:
— From Tennessee's 9-yard line, Sills beat cornerback Baylen Buchanan on a slant only to see the Vols' best linebacker, Daniel Bituli, undercut the route.
Bituli goes 6-3 and 244 pounds, and safety Micah Abernathy was closing in as well, so there's no way Will Grier's pass should've gotten through the labyrinth of arms and helmets. Yet he lasered it straight into Sills' numbers, and 2017's top touchdown-catcher bobbled it across the back boundary.
"That's Willie G — he's going to put it in there," Carrier said. "Willie threw a dart, and I told David he was probably more amazed that the ball even came through there."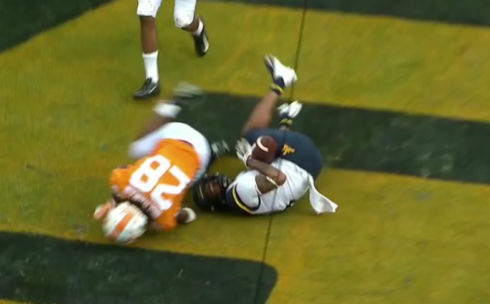 — As Simms raced open on a deep post, Grier enjoyed a much larger window thanks to a misdirection rollout. While the pass hung up a beat longer than Grier wanted, it fell into the lap of Simms running across the goal line. Again, Buchanan was giving chase, and when he lunged atop Simms, the ball squirted out.
"That is one of the hardest catches, when you don't know whether you should attack it high or should you keep running and let it fall in," Carrier said. "Plus there's two guys running at you and you're slowing up for it."
Carrier recalled dropping a pass just like that at the University of Houston. It counted as a minus then, it counts as minus now.
There's no empathy curve in grading film.
"They call you a receiver for a reason, because you're supposed to receive passes," Carrier said. "Your hands are made for receiving. So if the pass hits your hands, it's a drop. Plain and simple."
Not that Carrier is entirely onerous. He recognized Sills for catching two touchdowns after crisply separating from DBs, and he praised Simms for turning a short third-down catch into a 32-yard gain that jumpstarted WVU's second-half onslaught.
And Carrier glowed over the sight of T.J. Simmons — slowed by a toe injury throughout camp — displaying serious wheels on a 59-yard catch-and-run.
"Everybody starts off with a grade of 100, so your goal in a game is to see how long you can stay perfect," he said.
Indeed, there were many appreciable moments as West Virginia's receivers accounted for 351 of Grier's 429 passing yards. Carrier liked how his group "stayed hungry" when the game turned one-sided, though he expected more physicality out of their perimeter blocking.
If that sounds unforgiving, check out the grades for those Tennessee defensive backs.