MORGANTOWN, W.Va — Defending Class AAA state champion Martinsburg has the look and the resume of a team that is capable of claiming a third consecutive title in December. But first, a state record is in their sights Friday night when the Bulldogs visit Jefferson.
Martinsburg has won 36 consecutive games. The streak dates back to the 2016 season opener when they defeated Eastern, D.C. 56-14. With a win against the Cougars, MHS will set a new mark for consecutive victories across all levels of West Virginia high school football.
Despite some significant graduation losses from their 2017 team, the Bulldogs have outscored their competition 435-86 this season. At 8-0, Martinsburg is one of just three unbeaten teams in Class AAA. Their most difficult test came two weeks ago in a 50-45 win over Sherando, Va. It remains the only loss of the year for the Warriors.
"The group that graduated last year, there were about nine of them that started as sophomores, said Martinsburg head coach David Walker. "You hope that you can win a bunch of games but coming into the year I knew we were going up against some really good teams and that it would be hard for us to get to 8-0. We are pleased to be where we're at but hopefully we can keep going with it."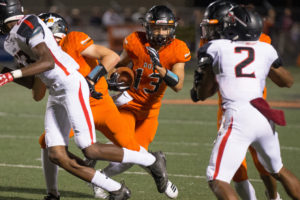 After the graduation of quarterback Tyson Bagent, who is averaging 341 passing yards a game as a freshman at Shepherd, a two-quarterback system is working well for the Bulldogs this season.  Senior Grant Harman has tossed 14 touchdown passes while junior Elijah Banks has added 11 more.
"Both of these guys have done a great job of bringing something different to the table," Walker said. "People questioned it a little bit but the result is all that matters."
WVU recruit Dewayne Grantham has been hampered by a foot injury suffered in the victory over Academy Park, Pa. But sophomore Naieem Kearney has been a pleasant surprise in the Bulldog backfield. He has rushed for over 800 yards. 145 of those came as the starter in the victory over Sherando. "Naieem has been a pleasant surprise," Walker said. "We knew he was going to be a good player. I thought he was maybe a year away but he has really shined this year."
Walker has led the Bulldogs to six state championships in the last eight seasons.
"Much of what we do Monday through Thursday determines what happens on Friday," Walker said. "We try to make them compete and try to focus on that. We don't talk so much about the opponent. We try to talk more about ourselves."
The Bulldogs currently share the state mark for consecutive victories with Ansted (1970-73) and Wayne (2011-13). Wayne head coach Tom Harmon can appreciate what goes into building such a streak.
"You can't have a lot of forward thinking going on," Harmon said. "You have to be concentrating on the task at hand. It takes a lot of discipline in these programs because high school kids tend to overlook things. It is quite a feat. We have been proud to hold it for a while."